No. 2 Flagstaff stuns Bears 1-0 in 2 OT thriller
Prep Boys Soccer
By
Doug Cook
|
dougout_dc
Originally Published: January 16, 2019 11:04 p.m.
PRESCOTT VALLEY — Odds are that Marco Avitia won't score this kind of goal on the pitch ever again.
Avitia, the Flagstaff boys soccer team's senior forward, drilled an arcing, 25- to 30-yard shot on a diagonal from the left side of the field and into the top right shelf of Bradshaw Mountain's goal with 4.1 seconds left in double overtime, handing the Eagles a miraculous 1-0 victory.
"I wasn't sure [how long it was] – I just kicked the ball," said Avitia, still winded from the match, afterward. "I knew I had no one on me. I was going to take the shot no matter what. I was going to get that shot."
In a Grand Canyon region showdown between rivals at a cold and damp Bob Pavlich Field on Wednesday, Jan. 16, the 4A No. 24-ranked Bears looked to have put a tie in the books closing in on 90 minutes of play against the No. 2-ranked and unbeaten Eagles.
But for the second time in as many seasons, Flagstaff found a way to beat Bradshaw Mountain with its last-minute heroics. Avitia's long, high, curving kick was the stuff dreams are made of – in the 99th minute of a scoreless game in two overtimes.
"If you coached for a hundred years, there's a good chance that you wouldn't see this type of game," an almost speechless Bears coach Bruce Giles said afterward.
Added veteran Flagstaff coach Mike Jenkins, "It was just like pandemonium. We were looking at the clock, time's running down. We had opportunities, they had opportunities, and it just went our way. It was a fantastic game."
Avitia received the ball on a throw-in from junior Alex Grieder. Grieder recalled teammate Trenton Campbell scoring a similar game-winner over the Bears at Pavlich Field last season – in nearly the identical spot on the field with time running out.
"It's unbelievable – and if it's anybody, it's him that deserves it," Grieder said of Avitia's goal. "I thought this was going to come out in a tie, but I guess it just shows, 'Never give up.' "
Bradshaw Mountain senior midfielder Geo de los Santos didn't mince words about the game-winner.
"I'm not going to lie – it was a very incredible shot," he said. "We held them up until the last minute. But we fought hard, left our hearts out on the field and we just got unlucky, like always."
With the loss in this instant classic, the Bears (4-3-1, 1-1-0 Grand Canyon) snapped a modest two-game winning streak and came on the heels of an 8-1 win over Cactus Monday at home.
The Eagles (7-0-0, 2-0-0 Grand Canyon) now have the edge to win the region and earn a trip to the 4A state tournament. Flagstaff's done it with its tenacious defense, which has allowed a total of three goals in its first seven matches.
For a day, Avitia and his teammates will take some time to treasure the victory over Bradshaw.
"It means a lot, it really does," Avitia said. "We didn't think they [Bears] were going to be this good, but they put up a hell of a fight – having a couple shots on us right off the bat, and later on throughout the game. They had us on our heels a couple times, but we both fought strong and we, Flagstaff, came out as a bigger team."
Photo Gallery
Bradshaw Mountain Vs Flagstaff Soccer 011619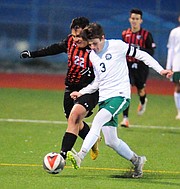 Meanwhile, the Bears have only four regular-season games remaining, all in region. They will most likely need to win out to have a shot at a state playoff berth. For Bradshaw Mountain's 13 seniors, another loss to Flagstaff stings.
"It's our last year, and we wanted to give it all we had – leave a memory on the field," de los Santos said. "But we'll just have to keep our heads high, I guess, and look forward to the rest of our games and see what happens from there."
UP NEXT
Bradshaw Mountain travels to Lee Williams (4-3, 0-1 Grand Canyon) at 6 p.m. Friday, Jan. 18, in Kingman.
Flagstaff plays host to 4A No. 9 Prescott (6-0-1, 1-0) for another important region game at 3 p.m. Jan. 18.
Doug Cook is a reporter for The Daily Courier. Follow him on Twitter at @dougout_dc. Email him at dcook@prescottaz.com or call 928-445-3333, ext. 2039.
More like this story
SUBMIT FEEDBACK
Click Below to:
This Week's Circulars
To view money-saving ads...