Grandparents raising grandchildren: New Prescott group offering much-needed support

By
Nanci Hutson
|
HutsonNanci
Originally Published: January 16, 2019 7:47 p.m.
Richard and Allene Young are not unlike near-retirement age parents who after raising a total of four adult children – he has two and she has two – welcomed the arrival of their five grandchildren.
The couple known by their grandkids as "Lolli" and "Pop" envisioned trips to Disney, camping trips, and annual family holidays free of worries about homework, school shopping, or time-outs for a naughty child.
The Prescott Grandparent Raising Grandchildren Support Group will be meeting the second Wednesday of the month from 6 p.m. to 7:30 p.m. in a conference room at the Prescott Unified School district offices in the Washington School on East Gurley Street. The next meeting is scheduled for Feb. 13. For more information, contact Richard Young by email: storyinprogress@yahoo.com.
The Humboldt Unified School district will offers its grandparents raising grandchildren support group on Jan. 29 at 5 p.m. at the HUSD Family Resource Center on North Robert Road. For information, email:kelly.lee@humboldtunifiedcom. RSVPs can be made by calling 928-759-5109.
Free on-site childcare is available for both groups.
With no children in their house, the couple appreciated the chance to travel, dine at cloth napkin restaurants, and not be concerned about a babysitter's schedule or serving as a teen chauffeur.
Then four years ago, Allene's daughter gave birth to a first child while she was in treatment for a heroin addiction.
The father was in prison. Baby Sebellah was premature addicted to methadone.
At first, the Youngs expected to just be extra support for mother and infant. Quickly, though, their roles shifted into more of a parental role as mother wrestled with ongoing addiction issues.
On advice from state officials, the Youngs opted to pursue adoption. Sebellah's mother appealed and regained custody in 2017. A devastating blow. Then Sebellah's mother became pregnant again, Young said. At five months old, the baby died. State child welfare officials determined Sebellah's mother was taking drugs at the time, he said. This time, the adoption was approved; Sebellah's mother pleaded no contest, Young said.
On May 11, 2018, five months before her fourth birthday, the Youngs became Sebellah's parents. The Youngs are far from alone – some 140 children in the Prescott Unified School District are being raised by grandparents due to circumstances not unlike their own. In Humboldt Unified School District, school officials predict that about three percent of the district's approximately 5,600 students are raised by grandparents, but those numbers fluctuate because circumstances are ever changing and evolving over time.
The emotional push-and-pull of the last four years still leave Richard, 62, and Allene, 54, with lumps in their throats and grasping for tissues. Yet when their cherubic, golden-blonde-haired child climbs into either of their laps, the couple are infused with a joy that they say is indescribable
In those moments, Young is clear any of their doubts and sacrifices disappear. All that matters is that this beautiful little girl is healthy, happy and safe, he declared.
A retired therapist with 30 years of experience in the human services field, Young said he and his wife wanted to use their experiences to help other grandparents facing similar circumstances. Richard volunteered to facilitate a new grandparents raising grandchildren support group in Prescott; the first meeting was on Jan. 9.
The group was organized through the support of the Prescott Unified School District Family Resource Center, MatForce and the Northern Arizona Council of Governments.
Humboldt Unified School District officials were instrumental in helping launch the group as it has offered a similar one for the last eight years. Humboldt's next grandparent group will be meeting on Jan. 29.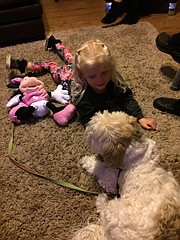 "From our standpoint, we know there is a need," said Paul Katan, the PUSD grants director who is in charge of the resource center. From his observation of the first group meeting, Katan said it was obvious "right away that the grandparents in the room needed that safe space to communicate. From observing, it seemed like it was a very safe and trusting group right off the bat."
At the start of the meeting attended by about 12 people – only two other grandfathers were in the mix –
Young told attenders the purpose is support, resources, and a place where everyone can "just be real."
For 90-minutes, the folks were just that. They told harrowing stories of how drug addiction, mental illness, disabilities, job loss and divorce, forced them into a caretaking role they did not anticipate at this juncture of their lives.
They admitted to exhaustion, frustration, and financial constraints that at times seem more than they can bear.
To a one, though, their deep abiding love for their grandchildren, and their own children who they have been forced to deem unfit parents, even temporarily, wins the day.
A few attenders said their biggest fear is being forced to return grandchildren to parents they don't think are ready. The process to take away a parents' rights to their child is not an easy one, whether it is to grant temporary custody or to permanently sever such rights.
As the group evolves, Young said he wants those who come to make connections, find resources, and just be with people who can offer a much-needed hug or share a belly laugh over a child's latest antic.
Young, too, assures that whatever is said in these meetings is confidential.
"I want to be clear that as great as the challenge are, the joy and blessings are greater," Young said after the 90-minute session. "I love having Sebellah in our lives, and her presence has helped me to become a better man."
More like this story
SUBMIT FEEDBACK
Click Below to:
This Week's Circulars
To view money-saving ads...