Badgers lose heartbreaker in OT 43-38
Prep Girls Basketball
Originally Published: January 15, 2019 11:04 p.m.
PRESCOTT — The Prescott girls basketball team led Peoria for much of Tuesday night, but trailing 36-29 late in the game, Tiffane Tran took over for the Panthers.
Tran was able to knock down a shot inside the arc, before hitting a three-pointer to tie the game at 38-38 before we headed to overtime and the Panthers ultimately held the Badgers scoreless taking the victory 43-38.
Photo Gallery
Prescott Vs Peoria Girls Hoops 011519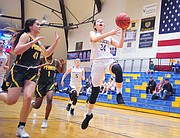 "Tonight I think we played really good as a team especially against them," Kira Reily said.
"They had size on us but I feel like we played pretty good with them but at the end we started to rush it even when we were ahead. I think we should've slowed the pace down because we were ahead so we needed to have patience."
The Badgers did have a comfortable lead as the game headed down the stretch but when Peoria implemented their press it turned the tide in favor of the Panthers.
"We played really good the whole game, offensively and defensively but at the end of the game we kind of broke down defensively and we to foul at the end and I fouled out because we don't really have another point guard and that's just difficult," Hollie Dalton said. "When they are running back and forth we get into their tempo which makes us play faster and sloppier so we just needed to really slow it down and we didn't really do that."
Over the course of the game, one bright spot for the Badgers was their ability to rebound with the Panthers although they were outsized. The Badgers finished the game with seven offensive rebounds to the Panther's eight, which helped the Badgers stay close and competitive.
"I feel like we tried our hardest to push them out," Kira Reily said. "We could've done a little better on that but we work a lot on boxing out and one of our biggest things is just keeping them out of the paint because that's where half their points come from is second chances."
However, another area of concern for the Badgers this season has been their turnovers and tonight they played a pivotal role once again as they committed 16 total, including three in the overtime.
In the game for the Badgers, Hollie Dalton once again led the way with 14 points and Kira Reily followed behind her with 11. The Panthers were led by Tiffane Tran's 12 points and she was followed by Dominique Broady with 10.
UP NEXT
The Badgers will be in action next against region foe Mingus here in Prescott on Friday, Jan. 18, at 5:30 p.m.
As for Peoria, the win moves them to 8-3 overall and they be on the road for their next contest on Thursday, January 17 at 7 p.m. against Cactus.
Chris Whitcomb is a sports reporter for The Daily Courier. Follow him on Twitter at @AZChris32. Email him at cwhitcomb@prescottaz.com, or call 928-445-3333, ext. 2031.
More like this story
SUBMIT FEEDBACK
Click Below to:
This Week's Circulars
To view money-saving ads...