Online grocery shopping growing, changing in Prescott area
Originally Published: January 12, 2019 5:21 p.m.
During the Golden Globes telecast on Sunday, Jan. 6, Walmart debuted a new commercial in which famous vehicles from movies and television — such as The Mystery Machine, K.I.T.T. from Knight Rider, and the Batmobile — pull into the retailer's parking lot. Each one arrived at the store because their "owners" had ordered their groceries online and were there to pick up the food.
Walmart is not alone. In Prescott Valley and Prescott, Fry's Food and Drug Store and Costco also are offering online grocery shopping and pickup.
And, area residents appear to be taking advantage of the services.
HOW IT BEGAN
Webvan was the first company to offer an online grocery service. The company was founded by Louis Borders in 1996. At its peak, Webvan had 3,500 employees and $178.5 million in sales, but $525.4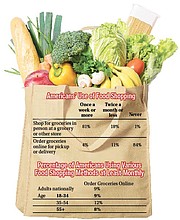 million in expenses, according to CNN Business. By June 2001, Webvan had filed for bankruptcy and laid off 2,000 of its employees. Amazon bought the company and eventually transformed the once-defunct company into Amazon Fresh.
THE FUTURE
Other companies also saw how online grocery shopping could be the future of food purchasing and began developing their own services. One of these companies was Kroger, the parent company of Fry's.
Originally called "ClickList," now known as Fry's Pickup, all Fry's markets in Prescott Valley and Prescott offer the online grocery service.
Two users of Fry's Pickup are Kendra Barnes and Carol Winsted.
Barnes is a mother of two young children. She said it is a hassle to get her children into and out of grocery carts and that one grocery cart is impractical.
HOW MUCH?
To order groceries online from Fry's, customers need to visit the store's website. From there they will then log into their account and select the option to use ClickList. The website will take customer to a page where they can pick what items to purchase. Customer will then proceed to check after selecting their item. The first three uses of ClickList are free after that there is a flat rate fee of $4.95. There is no minimum of items order for Clicklist.
To order from Walmart, a customer must buy $30 or more worth of items, and there is free pick up. Costco has $35 purchase minimum and fees vary with their membership.
"I've noticed that I spend less overall on groceries although there is a fee to do the ClickList," Barnes said.
Barnes estimates she saves around $50 using Fry's Pickup. "You are not walking through the isles finding random stuff you think you may need," she said.
Winsted also said she saves money through Pickup because she can control the coupon usage. Winsted still shops in the store sometimes, but said she prefers using Pickup because of her difficulty of walking.
Both women agree more grocery stores should adopt online grocery shopping. "It's just convenient," Winsted said. "You can order from home, get all your coupons set up, order what you need, so it's convenient that way, and drive up."
A Gallup Poll in July states 84 percent of Americans have never ordered groceries through the internet. Only 4 percent order groceries online once a week and 11 percent do so twice a month. A majority of those who do order groceries online are between 35 and 55 years old, according to Gallup, and only 14 percent of families with children younger than 18 use online grocery shopping services.
UNMANNED
The future may be bright for online grocery shopping in Arizona. In December, Kroger announced it would be launching the first unmanned delivery service for public use in Scottsdale. Customers will be able to order their groceries online and have an unmanned vehicle deliver the food to their home. Kroger is partnering with Nuro, which has a fleet of self-driving vehicles.
"Kroger customers are looking for new, convenient ways to feed their families and purchase the products they need quickly through services like Pickup and delivery," said Yael Cosset, Kroger's chief digital officer. "Our autonomous delivery pilot with Nuro over the past few months continues to prove the benefit of the flexible and reliable technology."
https://youtu.be/oGrSw7wK4no
More like this story
SUBMIT FEEDBACK
Click Below to: