Matforce evolves from fighting meth to focus on fentanyl, all other cycles of abuse

Originally Published: January 12, 2019 9:57 p.m.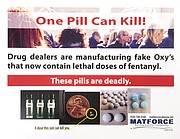 A crime fighter and justice seeker, Yavapai County Attorney Sheila Polk experienced a job-fueled epiphany in about late 2005 that left her seeking answers to a troubling mystery.
In the solitary quiet of her office, Polk perused case-after-case searching for clues to what might be causing a spike in petty to heinous crimes in her corner of Arizona. Her detective work paid off.
She discovered in virtually every case there was one common link: methamphetamines.
"What I recall thinking is that we can continue to just react, and watch our caseloads go through the roof, or we can go after what's driving this," said Polk of the moment she was catapulted into the role of founding a coalition to tackle the county-wide impact of methamphetamine and substance abuse.
She made a couple phone calls: the first two to now Arizona Supreme Court Justice Robert Brutinel, who was then a local Superior Court judge and to the head of the West Yavapai Guidance Clinic, Don Ostendorf.
In an empty courtroom, Polk remembers some 20 civic leaders from all aspects of the community admitting the methamphetamine curse was like nothing they had ever seen before.
"After all the venting, I said, 'OK. I will organize us into next steps,'" Polk said.
She remembers returning to her office, sitting in the same chair she sits in today, and wondering, "What do I do now?"
The County Attorney is not usually seen as a community organizer. She knew something needed to be done, but wasn't quite sure how to organize what seemed to be a significant community endeavor.
She again picked up the phone.
"I felt the burden lift from my shoulders," Polk said. "There were people in the community who knew what we were on the verge of doing."
A volunteer coalition was started — they identified as the Methamphetamine Advisory Task Force — with the group hosting 14 Town Halls to garner ideas on how to tackle the problem. They, too, worked with the West Yavapai Guidance Clinic to survey meth users on what might help break the cycle of addiction.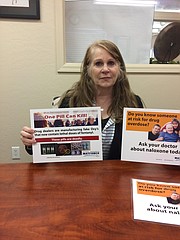 Today, MatForce is its own entity, targeting prevention of everything from cigarettes and alcohol to marijuana, methamphetamines and more. MatForce does not discriminate — the coalition is about preventing the abuse of any drugs that can prove harmful to the lives of all local youth and adults.
In recent months, MatForce has joined the county-wide focus on the fatal threat of fentanyl, something MatForce identified in 2016 as a contributing factor in two of the county's overdose deaths.
MatForce started a countywide overdose fatality review panel to do in-depth studies of all overdose deaths, complete with forensic and autopsy reports and interviews with willing families.
The November 2018 deaths of two 19-year-old Prescott Valley athletes, Gunner Bundrick and Jake Morales, reinforced the tragic realities behind the synthetic narcotic that is deadly in small doses. MatForce again was at the forefront of conversations about community-wide action to prevent more deaths.
"We learned a long time ago that this is not a court issue, not a law enforcement issue, not a school issue, but it's a community issue," Yavapai County School Superintendent Tim Carter. "When people look at MatForce they see a community of partners, with everyone bringing their strengths to the table so we can all work together."
ORIGINS
In 2007, the all-volunteer coalition secured a grant to hire Merilee Fowler, first as a program coordinator and then as executive director. Today, the organization has 10 employees, most of them part-time. The annual budget has grown from zero to $400,000, much of it from state and federal grants.
"Under Merilee's leadership, MatForce expanded its mission from methamphetamines to all substances of abuse," Polk said.
Fowler explains the agency tackles substance abuse as if it were a "three-legged stool." The focus: prevention, treatment and law enforcement.
"You can't throw out any one of them," Fowler said.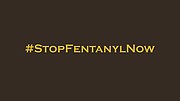 In 2011, MatForce started the Yavapai Reentry program for those returning to the community from prison. Each person is assigned a mentor with the aim of reducing recidivism. Since its inception, 203 individuals have enrolled, and only 16 have re-offended.
MatForce is a constant presence in the schools; it offers regular community workshops and keeps pressure on state lawmakers on bills they see as impacting substance abuse for everyone. MatForce, with Polk's legal guidance, was behind banning the sale of "bath salts" composed of synthetic drug compounds that could be addictive to users. MatForce has organized meetings with corporate pharmacists about the over prescription of opioid painkillers.
A year ago, MatForce organized its first statewide drug summit in Phoenix that was attended by some 400 individuals. In September, MatForce will host another similar summit focused on the latest drug threats. MatForce has earned state and national recognition.
MatForce's greatest strength is in its multi-agency collaborations that are all about "finding solutions that are going to work," said Yavapai County Community Health Services Director Leslie Horton.
"It's a big job. There is a lot against us," Fowler said. "But it's a fight worth fighting."
StopFentanylNow
SUBMIT FEEDBACK
Click Below to: