Fowler is tireless champion for substance abuse prevention, the FORCE behind MatForce

By
Nanci Hutson
|
HutsonNanci
Originally Published: January 12, 2019 5:42 p.m.
Merilee Fowler counts herself the introvert in her family — an oxymoron for someone often thrust into the spotlight as she time and again spars against the latest local, state and national drug beast du jour.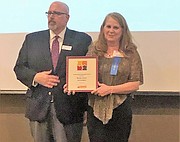 In Yavapai County, this 57-year-old mother and grandmother from Camp Verde is seen as a powerhouse, relentless in her fight against the perils of drug abuse. She knows all too well how seemingly harmless experimentation-turned-addiction destroys families and steals the users' dignity and promise.
"She really is just amazing," said Leslie Horton, director of Yavapai County Community Health Services. "She just has so much energy and passion it pours out of her as she does this work."
As the 12-year, first and only executive director for MatForce, Yavapai County's nonprofit substance abuse prevention coalition, Fowler has proved a fierce crusader for demystifying the allure of alcohol, marijuana, methamphetamine, bath salts, heroin, and seemingly harmless prescription pills laced with deadly doses of the synthetic narcotic, fentanyl.
Fowler is also executive director for the related nonprofit, Community Count.
Fowler is deemed by colleagues and fellow civic leaders as "relentless" in her vigilance to prevent the need for families to attend a premature funeral because of a fatal overdose. She wants teenagers to find euphoria on a hike in the Grand Canyon, or anywhere, rather than from a mystery pill a friend offers at a party. Her belief is no demand, no supply.
Soft-spoken but deliberate in approach, Fowler is described by those who know her best as a woman not to be underestimated.
"She's very personable, and professional, but she's also very persistent," declared Yavapai County Sheriff's Lt. Nathan Auvenshine, head of the county's multi-agency Partners Against Narcotic Trafficking drug task force (PANT).
"She is a very tender, sweet person, but when she is committed to something, she's relentless. … She doesn't let up until the mission is accomplished," he said.
Fowler appreciates the accolades, but admits her positions have also earned her a fair share of detractors who suggest her theories are warped and her pursuits a waste of time.
"I'm not about doing what's popular. I'm about doing what's right; and that is whatever prevents and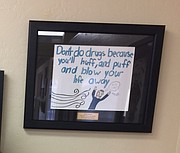 reduces substance abuse," Fowler declared. "I have a lot of people who hate me, and that's OK — especially those who like to smoke pot, they really hate me."
Fowler makes no excuse for her and her organization's stand against legalizing marijuana, or their efforts to limit prescriptions of opioid painkillers. The fight against methamphetamines continues.
As for the most recent fentanyl crisis, Fowler is again championing efforts to educate anyone and everyone about this lethal threat. She wants to convince teens and adults to stay clear of any substance that might lead them "down a path they don't want to travel."
Yavapai County School Superintendent Tim Carter said what he appreciates most about Fowler is she does more than talk the talk.
"She absolutely has a passion for what she's doing," Carter said. "It's her down to her bones."
FOWLER'S ROOTS

The woman known for a compassion-first approach hails from North Dakota where she was raised in a family that endured the heartache of addiction.
Fowler's paternal grandfather was an abusive alcoholic; her late father's early life was fraught with upheaval and despair.
In their early days in Arizona, Fowler and her husband, Robert, provided a temporary home for two children whose mother was a methamphetamine addict. The couple has three adult children — Nicholas, Shanna Lee and Matthew — and five granddaughters.
Fowler earned her Bachelors of Science degree in business administration from the University of North Dakota. She has since invested three decades of her career in nonprofits; prior to moving to the Southwest, Fowler was an executive director for Big Brothers Big Sisters in Rapid City, South Dakota.
Once in Arizona, Fowler worked in a family business. Still, she yearned to return to the nonprofit world. MatForce proved the perfect match, she said.
In March, Fowler was honored with the Arizona Outstanding Director of the Year for Community Partnerships. In her tenure with MatForce, Fowler has received numerous local, state and national accolades.
"Merilee has a heart of gold and a true passion for prevention," said Yavapai County Attorney Sheila Polk, a MatForce founder and board co-chairman. "She truly cares about creating communities where our kids can grow, thrive and succeed.
"She's the glue that keeps us going."
More like this story
SUBMIT FEEDBACK
Click Below to: