Family and sexual violence knows no boundaries; resources oriented to empower survivors

By
Nanci Hutson
|
HutsonNanci
Originally Published: January 11, 2019 10:16 p.m.
Should every rape be reported?
Should anyone — man or woman — be asked why they don't leave an abusive partner?
Does human trafficking occur in the quad-city area?
These were just a few of the questions that emerged as part of a panel discussion on family and sexual violence that was part of the inaugural "Connecting Communities Symposium" in November. The symposium included panels on three other societal concerns: homelessness, mental health and substance abuse.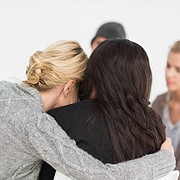 Symposium organizer Jessi Hans admits this particular topic proved to be one of the more sensitive, even awkward, for the approximately 250 area leaders who attended the event.
Despite more conversation about these issues on a national level, the executive director for the Coalition of Compassion and Justice said the reality that such violence occurs in one's own neighborhood can be hard to digest.
From her work for more than a decade with child and adult survivors of such violence, including some who end up finding solace at the CCJ shelter, Hans said she wanted this topic to be part of the symposium because only through awareness and education can people learn how best to approach those impacted by a crime that she said is unlike any other.
Law enforcement leaders today are becoming more attuned to the need to approach victims of sexual or family violence in a way that respects their trauma rather than simply focuses on the crime, Hans said. More law enforcement officers are getting training that enables them to reframe questions so victims are able to tell their story without a sense of the judgment that has long been attached to such crimes, she said.
Hans said she was pleased to hear law enforcement leaders talk of how officers are becoming more attuned to victim needs, even when that means they reject pursuing a criminal prosecution.
Of course, Hans admits not everyone agrees with that approach. Police officers are expected to uphold the law, and so it is their role to arrest those who pose a risk to others, she said.
Yet family and sexual violence is murkier than other crimes, Hans said. In many cases, the victims know, or are related to, their attackers, and so the abuse can leave them more fragile than victims of other crimes, she said.
Even in casual conversation, Hans said people will ask far different questions of someone who was robbed than they will of someone who was sexually assaulted or abused by a family member. Victim blame remains a hurdle to be overcome, she said.
"We are getting much better, but there is still room for growth," Hans said.
SUPPORT & RESILIENCY
Stepping Stones Agencies Founder and Chief Executive Officer Robin Burke has devoted her adult life to helping children and adult victims of family and sexual violence to become survivors.
Her agency provides a shelter for victims of family violence as well as one-on-one advocates and hotlines that are manned with trained personnel on a 24/7, 365-a-day basis. They offer a wide variety of group support and resiliency services for children and adults living in the Prescott/Prescott Valley area.
From her professional view, Burke said the almost 40-year-old agency continues to see a rise in demand for services because people have become empowered to seek out assistance.
She, too, is clear that help for those impacted by such violence does not mean someone must leave their home or participate in a lengthy legal case. Burke was one of the five panelists selected to speak at the symposium on this topic.
With a national spotlight shined on the legal consequences for abuse offenders, Burke said her agency's focus continues to be on the therapeutic response for those in crisis. By concentrating on bolstering the victims' emotional strength, rather than the criminal justice response, Burke said these individuals are able to forge a new path forward for themselves and their children.
Another panelist, Missy Sikora, is the head of the Yavapai Family Advocacy Center. The agency works with local law enforcement and the Department of Child Safety to reduce trauma through a team approach of advocacy, investigation and prosecution.
The agency's mission statement speaks to a shared belief by those seeking to embolden and improve the lives of those torn asunder by violence:
"People start to heal the moment they feel heard."
More like this story
SUBMIT FEEDBACK
Click Below to: