Monster Trucks roll in

Originally Published: January 10, 2019 9:57 p.m.
Monster trucks and the transforming fire-breathing, car-eating dinosaur robot known as Megasaurus are set to roll into the Findlay Toyota Center Friday and Saturday, Jan. 11-12, for the Toughest Monster Truck Tour.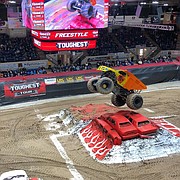 The first time the show has ever been brought to Prescott Valley, audiences will have the chance to watch Bigfoot; Dragon Slayer; Megasaurus; Quad Chaos, the world's largest ATV, and Dirt Crew, a monster-sized dump truck.
Driving Bigfoot will be Dan Runte, in the driver's seat for the first time since 2016 due to regular driver, Larry Swim, out for a knee injury. Runte, who won five consecutive championships prior to 2016, said he has been driving for 30 years and there are a lot of things that go through his head as he's driving a truck as large and powerful as Bigfoot. He has to be able to drive it while hitting things square and keeping the car upright, he said. Further during races, he has to be able to navigate with it around the track and beat the truck he's against, Runte said.
Both shows start at 7:30 p.m. with tickets starting at $25 for adults and $15 for children, available online at www.ticketmaster.com, by calling 1-800-745-3000 or at the Findlay Toyota Center box office, 3201 N. Main St. Military discounts are available at the box office only.
The best part about driving Bigfoot are the fans, many of whom he'll run into again and again by going back to the same venues, Runte said. A lot of the fans were the age he was or younger when he started driving and now they're all adults who come to the events with their kids, he said.
"The fans are just incredible," Runte said. "Bigfoot has a huge following."
Out of all the promoters and companies who put on monster truck shows, the Toughest Monster Truck Tour is the best show by far, he said. People will see more monster trucks and more action at this show than they will any other, Runte said. At the same time, if someone has never seen a monster truck show they have to see it live because watching one on television doesn't do it justice.
Before the show even begins, attendees have the chance to head to the floor from 5:30 to 6:30 p.m. where the trucks and their drivers will be, Runte said.
"That's a neat experience if you have kids and even if you don't," he said. "A lot of other promotion companies don't do that either and what Toughest does is they let the people get down there and get right up to the trucks, do autographs, get pictures with the drivers."
Pit passes are $5.
For more information about the Toughest Monster Truck Tour, visit www.facebook.com/toughestmonstertrucks.
More like this story
SUBMIT FEEDBACK
Click Below to: