Friday Catchall: Little bird furthers Dells development debate

Originally Published: January 10, 2019 8:10 p.m.
Updated as of Friday, January 11, 2019 12:05 PM
The Friday Catchall:
• THE DELLS — The debate continues over Save the Dells versus Arizona Eco Development. (I should state "talk" continues because one side speaking out does not make a debate; the City of Prescott and AED have been quiet publicly.)
Two of the latest missives that crossed my desk this week were:
From "Barbara," who wrote: "Save the Granite Dells for ourselves and for future generations! Ever since my family moved to Prescott over 100 years ago, the Granite Dells has been a favorite place to hike and explore (and swim in years past). Whenever we have visitors who aren't from Prescott, we take them to see the Dells as one of Prescott's beautiful and unique places. I want my children to be able to continue to enjoy The Dells, as well as their children and their children's children. It would be a tragedy to continue to develop this local natural treasure. Please help us prevent that."
And from "Owen" came this: As a teacher, "I can speak to the responses I get from students when they hear of the development in the Dells. With a (sad) or confused look they ask, 'Why would they (put) homes, resort, and walls all over that area? It is so pretty! It is one of my favorite places to go with friends. What about the wildlife?' I'm even more sad when I can't give them a viable answer. I ask the Mayor and developers to put preservation before development for once in history."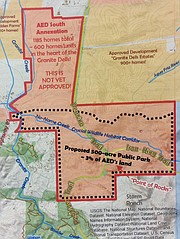 I think people fear the Dells will become like the Jasper development, which is clear cut near Highway 89A and west of Glassford Hill Road, or we'll be looking at hillside scars or such. I do not know; however, remember that the property that has been the subject of most of the debate, Point of the Rocks, is not what you see when you drive through the Dells on Highway 89; it is actually a mile or more east from there.
That said, a lot of the talks have been behind closed doors. I can tell you this: a little bird told me the public and Save the Dells will be pleased with the negotiations between the city and AED.
We will see.
• THE WALL — I see a lot about the Border Wall in the news, online and on TV, to which many Americans — especially the politicians in Washington — are diametrically opposed.
I did like this "rant" that came in anonymously this week: "The wall would be used as a filter to allow people to enter the U.S. legally. Few are saying 'everyone stay away,' rather just enter the U.S. legally. Be part of us for the good of America."
May cool, logical and simple heads prevail.
• POSTAL — I am confused. It took an entire month for my Christmas card to reach my mother in Colorado. It was about three weeks for family in North Carolina and Florida too. Here, my wife and I often do not receive all of our mail.
This is a new one for me, though a call to the Postmaster this week went unreturned (I thought the Postal Service was not part of the shutdown).
I will let you know what I hear. In the meantime, email me with your snail mail woes — or successes — at twieds@prescottaz.com.
• PICK OF THE WEEK — (Proving there's always something good to do in the Prescott area that's cheap or free): The Origins of Howey's Hall presentation Saturday, Jan. 12, by local author Tom Collins. It begins at 2 p.m. and is at Sharlot Hall Museum, 415 W. Gurley St. Click HERE to read the Jan. 6 Days Past article on the subject.
Very interesting. Enjoy!
Tim Wiederaenders is the senior news editor for The Daily Courier and Prescott News Network. Follow him on Twitter @TWieds_editor. Reach him at 928-445-3333, ext. 2032, or twieds@prescottaz.com.
* Update from Tim - noon, Jan. 11: I clarified the above concerning the "subject property," which is the Point of the Rocks portion of the Granite Dells. It has been the center of the debate. AED's property does in fact extend to Highway 89, but Point of the Rocks is farther east. Thank you.
More like this story
SUBMIT FEEDBACK
Click Below to: