Eagles upset No. 10 Antelope Valley in OT 101-96
College Women's Basketball
By
Doug Cook
|
dougout_dc
Originally Published: January 10, 2019 10:40 p.m.
PRESCOTT — Sometimes, a little bit of luck can go a long way. Embry-Riddle's women's basketball team needed every ounce of good fortune that it could muster in a Cal Pac showdown Thursday, Jan. 10.
In an atmosphere befitting the postseason, Embry-Riddle upset NAIA Division II No. 10-ranked and defending Cal Pac Conference champion Antelope Valley (Calif.), 101-96, in overtime at ERAU's Activity Center.
Five Eagles scored in double figures, led by guard Danae Ruiz, who had a game-high 25 points (7 of 10 free throws, 3 of 7 3-pointers) and eight rebounds in 24-1/2 minutes off the bench.
Photo Gallery
Embry Riddle vs Antelope Valley Womens Hoops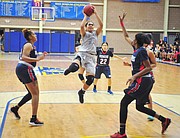 Jazlyn Maletino followed with 22 points and three assists. Melissa Pfeifer registered a double-double of 12 points and 10 rebounds.
Embry-Riddle won this game at the free-throw line, converting 42 of 51 from the charity stripe for 82 percent. Four Pioneer players fouled out, as did three for the Eagles.
Nevertheless, this was arguably the biggest win of the four-year Embry-Riddle program's history, and it drew the Eagles even with the Pioneers and Simpson at 3-1 in the league standings. No. 22-ranked UC Merced leads the conference at 4-0.
"It's really huge, especially because we just lost to Merced [73-71 loss Jan. 3 on the road]," first-year ERAU coach Michael Trujillo said of Thursday's win. "If the tiebreaker goes to head-to-head [at the end of the season for conference tournament seeding], we have it right now. That's a big relief, just knowing that we have a little bit of cushion."
Trailing 82-80 with six-tenths of a second left in regulation, the Eagles' Jenna Knudson converted 2 of 2 free throws to send the game to the five-minute extra session.
In OT, Embry-Riddle was down 92-91 with 2 minutes to go, but the Eagles went on a 10-4 run to seal the victory.
"We were in a similar situation just last week with Merced, and we weren't able to pull it out," Knudson said. "It just shows our toughness. We actually did learn from what we did wrong and what we could've done differently. And this time we went out there and executed in crunch time, and it paid off."
Pfeifer subsequently netted four free straight throws to hand the Eagles the lead for good at 95-92.
Maletino's jumper with 1:07 left and Haley Villegas' two free throws with 37 seconds to go iced it, although Pioneers junior forward Tylen Price drained 3 of 3 free throws after being fouled on a 3-point attempt.
Up 99-96 with 26 seconds remaining, ERAU sophomore guard Bethany Wolph sank two free throws to put the game out of reach.
"It definitely sets the tone for the rest of the conference games that we have," Wolph said of the victory. "It definitely shows what we can do, and we need to progress off of what we've done and just play harder and harder. Because I know we can do it."

The Eagles probably should have lost this game. With 1.8 seconds left in regulation and trailing 82-80, ERAU freshman forward Kamryn Brown missed the front end of a two-shot foul. Trujillo told Brown that if she missed the first, she should purposely miss the second – and she did.
That's when Knudson saved the day, grabbing the rebound off of Brown's second miss.
"That was really good teamwork by both of them," Trujillo said.
Embry-Riddle improved its record to 13-3 and an unblemished 6-0 at home.
Antelope Valley dropped to 13-4, including 5-1 on the road. The Pioneers saw their four-game winning streak end.
Four Antelope Valley players scored in double figures, led by starting guard Samantha Earl's 19 points, five rebounds and two assists in 30-plus minutes before fouling out. Price (18 points, 10 of 13 free throws) and Daizah Pounds (16 points on the strength of 4 of 7 from 3-point range, three steals) followed.
UP NEXT
Embry-Riddle wraps up this two-game Cal Pac home stand at 6:30 p.m. Saturday, Jan. 12, versus La Sierra of California (5-12, 2-2 Cal Pac) at the ERAU Activity Center. The Eagles have 10 conference contests left to play.
Antelope Valley faces conference foe Benedictine-Mesa (5-8, 1-3) at 1 p.m. Jan. 12 at Heap Gymnasium on the campus of Mesa Community College.
Doug Cook is a reporter for The Daily Courier. Follow him on Twitter at @dougout_dc. Email him at dcook@prescottaz.com or call 928-445-3333, ext. 2039.
More like this story
SUBMIT FEEDBACK
Click Below to: