ERAU chancellor to step down in May
Dr. Frank Ayers will teach aviation, leadership courses at Daytona Beach campus
After 10 years heading up the Embry-Riddle Aeronautical University's Prescott campus, Chancellor Dr. Frank Ayers and his wife, Debbie, have decided to return to Florida to be closer to family. Ayers will leave in May at the end of the Spring semester.
His plan is to transition to a full-time faculty role in the College of Aviation at the University's Daytona Beach, Florida, campus teaching undergraduate and graduate courses in jet aircraft operations, flight safety, and the history and development of the aviation industry.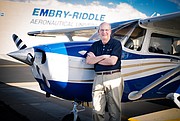 "I also hope to teach in the business areas of Organizational Development and leadership, based on my experiences over the last several years," Ayers said.
Calling his time spent in Prescott with faculty and staff, students, alumni, parents and community "an amazing journey," Ayers said he will miss everything about Prescott and the people with whom he and his wife forged strong bonds.
"We hope to return from time to time to see the progress that we know is coming and to celebrate with our friends here," he added.
Ayers retired after a successful and decorated 10-year career in the U.S. Air Force as colonel in 2000. He was Department Chair of Embry-Riddle's Daytona Beach Flight Department until 2009 when he accepted the position of chancellor at the Prescott campus.
Under his leadership, the faculty, staff, alumni, students, parents and donors worked together to accomplish many milestones in the past ten years. These include:
• A 60 percent enrollment increase.
• A 25 percent female student body (up from 17 percent in 2009).
• Ten new degree programs including the nation's first and only College of Security and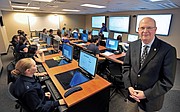 Intelligence established in 2014.
• A new School of Business dedicated in 2018.
• Introduction of seven new athletics programs and joining the Cal-Pac conference in 2012.
• Opening the state-of-the-art STEM Education Center featuring the Jim and Linda Lee Planetarium in October 2017, welcoming more than 20,000 community visitors to date.
• Opening two brand new residence halls in the past three years.
The strong connection between the city and region with the university brought new industries, improved air travel, and created new cultural opportunities, Ayers said. "Our Embry-Riddle faculty, staff and students have become an integral part of most every aspect of life in Prescott."
ERAU President Dr. P. Barry Butler said he was impressed by the deep commitment it took to make the Prescott campus so respected academically and so valued by the community.
"We owe Dr. Ayers and his wife, Debbie, our thanks for creating the student-first campus culture that makes Prescott the special place that it is," Butler said.
Ayers said he hopes to be more involved in volunteer work in Florida, and also to be able to spend more time with family.
The university will begin a national search to recruit a successor.
More like this story
SUBMIT FEEDBACK
Click Below to:
This Week's Circulars
To view money-saving ads...