Against the odds, 2018's rainfall near annual average
2019 weather predictions

By
Max Efrein
|
mefrein
Originally Published: January 9, 2019 9:41 p.m.
Despite a rocky start, 2018 ended up nearly reaching average annual rainfall levels for the Prescott area.

Before being blessed with a healthy monsoon season that began in early July, Prescott and surrounding areas were undergoing an unprecedented dry streak.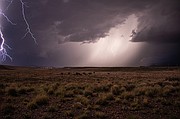 Between Jan. 1 and July 4, 2018, the National Weather Service's official weather gauge at the Prescott Municipal Airport had only measured 1.87 inches of precipitation – the lowest total amount ever recorded for those months. The normal value for that period of time is 5.14 inches.
The winter leading up to 2018 was no better. Between September and January, it was both the driest and warmest winter in recorded weather history in Prescott with only 0.53 inches of precipitation.
Moderate monsoon moisture, a fairly wet fall and an early start to winter helped turn much of that around, however.
Overall, Prescott's airport received 12.56 inches of precipitation in 2018. That's only 1.41 inches off from the 30-year average of 13.97 for that station. At Prescott's Sundog Wastewater Treatment Plant – the location of a weather station managed by volunteers who report their readings to the National Weather Service – the result was also slightly below average. By year's end, the station received 17.34 inches of precipitation. That's 1.85 inches below Prescott's overall historical average of 19.19 inches.
NEW YEAR'S EVE BLIZZARD
Helping to boost those year-end figures was a New Year's Eve blizzard, which brought four to seven inches of snow to Prescott and surrounding areas. Even towns with elevations near 3,000 feet, like Cottonwood, Clarkdale and Camp Verde, received about two to four inches of winter's bounty.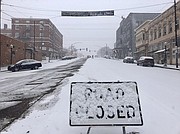 "We were seeing extremely low snow levels," said Nathan Lynum, meteorologist with the National Weather Service in Bellemont (near Flagstaff). "That's why we were getting accumulation in areas that don't normally, in a typical year, see those kinds of values."
But that brief blizzard was most of the snow seen all year for the Prescott area.
"Before that, we had a pretty dry year for snow," said Jim Rhodes, who does most of the precipitation readings at the Sundog weather station. "All we had was 4.7 inches, and all of that fell in January and February."
According to a climate study published by the National Oceanic and Atmospheric Administration (NOAA) in 2009 that looked at historical climate amounts between 1971 and 2000, Prescott is supposed to get about 20.4 inches of snow on average.
"But I think the area has seen a warming trend, so I think that [average annual snow fall amount] is going down," Rhodes said.
2019 PREDICTIONS
So far, 2019 is keeping up with about average precipitation amounts. Since Jan. 1, the airport has received 0.26 inches of precipitation, with the historical average being 0.32 as of Jan. 9.
Climate predictions are indicating moisture could increase as a weak El Niño weather pattern settles in. This pattern occurs when the east-central tropical Pacific Ocean is significantly warmer than usual, according to NOAA. Historically, El Niño patterns often bring winter storm tracks further south, producing wetter-than-average conditions for California and the southwester U.S.
For these wet conditions to truly kick in, however, those warm waters have to link up with the atmosphere, which the Climate Prediction Center is anticipating will eventually happen.
"The official forecast favors the formation of a weak El Niño, with the expectation that the atmospheric circulation will eventually couple to the anomalous equatorial Pacific warmth," stated an El Niño/southern oscillation diagnostic discussion published on Dec. 13 by the Climate Prediction Center.
Averaging the last 10 weak El Niño winters, precipitation figures dating back to the 1950s shows that Prescott receives about 4.84 inches of precipitation and 8.1 inches of snow between Dec. and Feb. during a normal El Niño winter.
More like this story
SUBMIT FEEDBACK
Click Below to: