Thermal camera system helps stop wrong-way driver in Phoenix
Originally Published: January 8, 2019 2:53 p.m.
PHOENIX — The Arizona Department of Transportation is crediting its thermal camera-based wrong-way vehicle detection system with stopping an accident from happening on a Phoenix freeway.
They say the detection system alerted authorities and other motorists early Monday about a pickup truck being driven the wrong way on Interstate 17.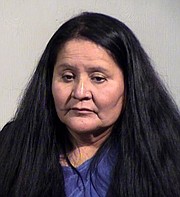 State Department of Public Safety troopers took the driver, identified as 59-year-old Diane Begay, was booked into jail on charges of aggravated DUI and endangerment. Begay made her initial court appearance before a jailhouse judge. into custody and nobody was injured.
ADOT officials say the thermal camera detected the truck getting on the freeway about 3 a.m. and DPS troopers were dispatched quickly.
The $4 million system involves 90 thermal cameras along 15 miles of I-17.
ADOT officials say the system has been operational for a year and has recorded detections of more than 45 wrong-way vehicles so far.
SUBMIT FEEDBACK
Click Below to:
More like this story