Developer pitches plan for 3-story senior living project in Prescott Valley
Facility would be private pay, include memory care
Five people showed up to a neighborhood meeting Friday evening, Jan. 4, at the Prescott Valley Public Library, to hear about plans for a new senior living facility at the southeast corner of Viewpoint Drive and Long Look Drive.
The three-story project will consist of 25 individual living apartments, 75 assisted living units, and memory care for possibly 30 residents on 5 acres, said Ronald Ziebert, president and CEO of Link Development, LLC, from Salem, Oregon. The facility will be private pay. Arizona's reimbursement rates, he said, are "horrible."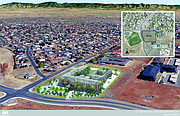 Phase Two of the project will include a row of single-level duplex cottages as a "buffer" between the project and Long Look Drive. "We won't build that until we know if the market will support it," he said.
The project leaders have not yet requested a zoning map change from the town, something that would follow a neighborhood meeting, said Prescott Valley Planner Gary Davis. First the developers must invite neighbors within a 1,000-foot radius of the property to an informational meeting. They would next request a zoning map change from RCU-70 (Residential; Single Family, Rural) to RS-PAD (Residential; Sales and Services Planned Area Development) at which time the Planning and Zoning Commission would schedule a public hearing and discussion.
Ziebert's past senior housing projects include those built in Oregon, Washington, Montana, Utah, North Dakota and several in Arizona (Kingman, Bullhead City, and Casa Grande). This project, once completed, should provide employment for 22 to 30 staff, he said.
The main entrance will be off Viewpoint Drive, which can better accommodate ingress and egress traffic and would be located across the street from Bob Edwards Park. As part of the plan, the developer will widen Long Look Drive, which will have one entrance into the eastside of the project.
The main concern for neighbors is an increase in traffic, Ziebart said. However, with staggered employee shifts, there shouldn't be much impact. Daytime visitors and appointments by social service workers shouldn't draw large volumes of traffic, he added.
Also, he said, little impact will be made on the school system, due to the age of the occupants/residents, nor on the town's park system. Water consumption still needs to be calculated.
Deliveries and garbage pickup could possibly be coordinated with those taking place at Glassford Place, a 39-bed senior living facility, adjacent to the property on Long Look Drive, said Becky Ratliff, management director of Watermark Retirement Communities, Tucson.
Lead architect Gunnar Langhus, with Ankrom Moisan Architects of Portland, Oregon, said the main entrance would have a lodge-type feel similar to Touchmark's in Prescott. The lobby, dining area, administration, beauty salon and kitchen are located at the front, and lead to resident's rooms and to the self-enclosed memory care units with its own courtyard at the center.
One resident questioned the "high-end" look to the facility in an older part of town, saying it would not match the character of the neighborhood, especially if built to three stories and using a lodge-style design.
Ziebart said he looked at the area within a 5- to 7-mile radius, and "the area is more affluent than you'd think."
Curtis Larsen, executive director for Glassford Place, mentioned the difficulty with staffing assisted living facilities and having a new place open so close by. He worked at one facility that lost 75 percent of its residents when a new housing facility opened up in the same town, he said.
"You're coming in with 80 units, and we all have staffing issues. I know if staffing suffers, my residents suffer," Larsen said. "There is a need for senior living housing, but where's the staffing going to come from? It's a tough industry."
Ratliff said having two facilities located side by side could be beneficial. Staff often works two jobs, she said, and this would keep employees local.
Langhus said economically they wouldn't want to build the facility any smaller or any larger. Ziebart concurred.
"There's plenty of space for everybody. We're all going to find our niche — a price niche, service niche," he said.
Ziebart said he hopes to break ground by August or September, depending on obtaining permits, and construction will take about one year, three months.
More like this story
SUBMIT FEEDBACK
Click Below to:
This Week's Circulars
To view money-saving ads...