Clark, Bundrick lead Bears past Prescott 56-35
Prep Girls Basketball
Originally Published: January 8, 2019 11:48 p.m.
PRESCOTT — Tuesday night, the Bradshaw Mountain girls basketball team traveled to Prescott to face the Badgers looking to win their seventh-straight game over their cross-town rival and they did just that, 56-35.
The game was close in the early going as the Badgers were able to hang in, trailing by only 11 after the first quarter, but eventually the Bears ability to continue to outplay the Badgers offensively took over.
In the game, the Bears were able to successfully move the ball and get open shots, with their 12 assists.
Photo Gallery
Prescott vs Bradshaw Mountain Girls Hoops 010819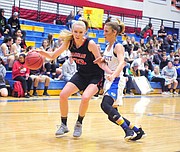 "(We played) really well," Bradshaw Mountain head coach Rick Haltom said. "Coming off (winter) break you never know what's going to happen because you got some time off, but it did help us to play in that Prescott tournament last week, it helped us a lot. We're happy, a win is a win, and you can throw out the records when you play them and we'll take it. It's a good start to 2019 for us."
The Bears had a considerable size advantage with the two senior captains, Delanie Clark and Riley Bundrick, and they took full advantage.
With Clark and Riley leading the way, the Bears scored 36 points in the paint versus only 10 points in the paint for the Badgers. The duo of Clark and Riley finished with a combined 37 points, with Bundrick scoring 20 and Clark adding 17.
For coach Haltom, this was the game plan coming in.
"We wanted to get the ball to Riley and Delanie every time and let them make a decision," Halthom said. "They're our two senior leaders, two senior captains and we figured they were smart enough that if they get doubled they could kick it out and if they stayed in single coverage on the block then we could have them score, which they did. I trust them 100 percent."
Outside of the Bundrick and Clark, seven out of the eight Bears that also played in the game scored at least two points, with Brinlee Kidd leading the other players with seven. The play of Kidd and the rest of her teammates is what Clark took away from the game.
"I think we (played) really well, we came together and a lot of the girls contributed and didn't just leave it to Riley and me, which was really nice," Clark said. "They stepped up and showed what they could do and that's really good."
UP NEXT
With the win, Bradshaw Mountain has now completed half of their region schedule and sit at 5-1, which is only one game behind region leaders Flagstaff. Including tonight, the Bears will play five out of their next six games on the road, including Friday, Jan. 11, at 7 p.m., when they will be back on the road at Thunderbird.
Prescott drops to 1-4 in the region and 3-7 overall with their loss tonight. They will look to snap their three game losing streak when they host region opponent Mohave, who they did beat earlier this season in the 2018 Prescott Lady Badgers Winter Classic.
Tipoff is at 5:30 p.m. Friday, Jan. 11.
Chris Whitcomb is a sports reporter for The Daily Courier. Follow him on Twitter at @AZChris32. Email him at cwhitcomb@prescottaz.com, or call 928-445-3333, ext. 2031.
More like this story
SUBMIT FEEDBACK
Click Below to: