Bradshaw Mountain powers past Badgers 65-52
Prep Boys Basketball
By
Doug Cook
|
dougout_dc
Originally Published: January 8, 2019 11:44 p.m.
PRESCOTT — The Prescott boys basketball team is green in 2018-19, and it showed against rival Bradshaw Mountain on Tuesday.
Despite efficiently executing a full-court pressure defense late, the Badgers didn't have enough on the offensive end to catch up with the 4A No. 23-ranked Bears in a Grand Canyon region clash Jan. 8 at the dome gym.
Bears sophomore power forward Nate Summit registered a double-double of 25 points, 10 rebounds, four blocks and an assist, leading the visitors to a 65-52 victory over Prescott.
Photo Gallery
Prescott vs Bradshaw Mountain Boys Hoops 010819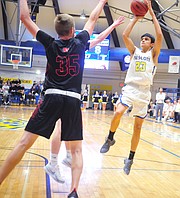 Bradshaw Mountain ultimately won the game at the charity stripe, converting 14 of 16 free throws in the fourth quarter alone to seal it.
"We did not play well in that stretch [facing the press in the fourth quarter], but thank goodness we were able to knock down our free throws," said Bradshaw Mountain coach Blair Hillig, whose team was outscored, 24-22, in the final frame. "That was really the lifesaver there, because we struggled with their pressure, for sure."
The Bears finished the game 17 for 20 from the line for 85 percent.
"That, and the early lead [14-5 at the end of the first quarter], was the difference in the game," Summit said of he and his teammates converting their free throws.
Added Prescott coach Travis Stedman, "We actually played with intensity in the fourth quarter, which we didn't do at the beginning of the game. We spent the first 24 minutes waiting for something good to happen, rather than trying to go take something. We've got to get over that hump."
Junior guard Tripp Nestor followed Summit for the visitors, notching 14 points, four rebounds, three steals and an assist. Senior forward David Massis added 13 points, three boards, two assists and a steal.
Point guard Parker Bennett had nine points, five assists, three steals and a rebound.
With the win, Bradshaw Mountain improved its record to 9-7 (5-4 in power-point games) and 3-2 in region. Prescott extended its losing streak to five straight games, dropping to 1-9 and 1-4.
During the 2017-18 season, the Badgers swept the Bears in their two-game series, with both of Prescott's wins coming by double digits. On Tuesday, Bradshaw Mountain picked up its first victory over Prescott since Dec. 19, 2016, which was a 56-55 barnburner in Prescott Valley.
"It's so hard to play against Prescott, because the kids get goofy – they really do," Hillig said. "It's their buddies. They're rivals, but these kids are friends with each other. They play at the Y together."
In the losing cause, Prescott junior power forward Korey Schwartz – the only one of 12 players on the Badgers' roster with varsity playing experience a season ago – was the bright spot. Schwartz finished with 18 points, four rebounds, three blocks and a steal.
Prescott trailed 31-17 at halftime, and it didn't really recover.
"In the first quarter, we can't dig ourselves that big of a hole, like we've done the past few games," Schwartz said. "And, then, at the end of the game it won't be as hard to come back."
Freshman wing Jason Parent (eight points, four rebounds, two assists, two blocks), senior wing Aydan McKenna (eight points, five rebounds, two steals) and sophomore point guard Milap Owens (seven points, three boards, three assists, steal) followed for the hosts.
"We've got to start winning some games, and start playing better as a team," Schwartz said.
UP NEXT
Bradshaw Mountain takes a short, one-game break from region play when it plays host to Thunderbird (2-5 record in power-point games) of the Skyline region at 7 p.m. today, Jan. 9, at Gary Kunow Gym in Prescott Valley.
Prescott continues on in region when it plays host to Mohave (2-8, 0-4 region) at 7 p.m. Friday, Jan. 11, at the dome gym.
Doug Cook is a reporter for The Daily Courier. Follow him on Twitter at @dougout_dc. Email him at dcook@prescottaz.com or call 928-445-3333, ext. 2039.
More like this story
SUBMIT FEEDBACK
Click Below to: