Embry-Riddle grapplers stay unbeaten with victory over Warner Pacific
College Wrestling
Originally Published: January 7, 2019 7:23 p.m.
PRESCOTT — Picking up two pin victories in the first 33 seconds of their matches, Eli Mason and Carlos Apodaca sparked an Eagle win in their return to the mat for the first time in more than 2 weeks Monday.
The Eagles (10-0, 2-0 Cal Pac), who came in ranked sixth nationally, took on California Pacific Conference opponent Warner Pacific (0-5) and took the victory, 32-21.
However, for head coach K.C. Rock, it wasn't the prettiest performance.
Photo Gallery
ERAU vs Warner Pacific Wrestling 010719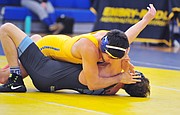 "I thought it was pretty ugly," Rock said. "We had a long break, a long layoff and I let the guys have a little more time off then we normally do, which is fine, but we've had to squeeze some harder workouts in less days. So we're kind of training through this and it showed on our feet with our legs being a little bit tired, but that's part of the deal, that's part of training and part of getting better is wrestling through these situations."
In the match, outside of the forfeited weight classes on both sides, the Eagles went 5-2 overall. On the day, No. 18-ranked Collin Anderson at 133 pounds, won 15-3 in a match that went the distance, No. 3 James Williams, 157, won by technical fall scoring 15 points, Carlos Apodaca, 165, won via pin just 19 seconds into his match, No. 11 Kody Davis, 174, won via technical fall scoring 15 points and No. 7 Eli Mason, 197, won by pin, 33 seconds into his match. Garette Branson and Jayce Cunha also competed but did suffer defeats.
It was a close competitive match and their first since winter break, so for senior Eli Mason, this was good for his team.
"Having this kind of dual before next week, (when) we'll have a tough dual (is good)," Mason said. "Wrestling right now and getting the sludge out is way better then wrestling next week against the number (nine) team and getting the sludge out. I think we needed this a little bit."
LOOK AHEAD
The Eagles have not lost yet this season but they will get into the meat of their schedule in the coming weeks. With only six matches left, the Eagles will take to the mat to face, No. 3-ranked Montana State, No. 4 Providence, No. 9 Menlo College and No. 12 Southern Oregon; all of which should be good tests before they get to the postseason in February.
UP NEXT
The Eagles will be on the road for their next three matches, which start at 3p.m. Saturday, Jan. 12, when they travel to face Simpson.
The Knights will look to pick up their first victory of the season when they travel to Eastern Oregon University on Friday, Jan. 11.
Chris Whitcomb is a sports reporter for The Daily Courier. Follow him on Twitter at @AZChris32. Email him at cwhitcomb@prescottaz.com, or call 928-445-3333, ext. 2031.
More like this story
SUBMIT FEEDBACK
Click Below to: