Burglary suspect lies to avoid arrest; now in-custody
Investigation ongoing as another suspect is being vetted
Originally Published: January 7, 2019 5:30 p.m.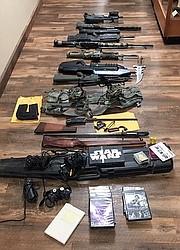 The Yavapai County Sheriff's Office (YCSO) proved in a recent case that it doesn't pay to lie to law enforcement.
On December 15, YCSO deputies met with a burglary victim in the 20700 block of East Wagon Way, Cordes Lakes, who reported the theft of items including a rifle, shotgun, airsoft rifles and a video game console, according to a YCSO news release.
The victim had been away from his residence for several days and retuned to find the items stolen. A person living in the home, 22-year-old Garrette Remington, had apparently moved out while the victim was away, for Remington's room was found completely cleaned out, the victim told deputies.

The room where the victim kept his guns was locked when he left. He found that the door into the room had been forced open based on damage to the door frame and suspected Remington might be involved. When confronted via text, Remington denied any involvement and said he was now living in California, the victim told deputies.
On December 28, Remington contacted YCSO and spoke to the investigating deputy by phone. He claimed he was staying in Redwood, California, and did not take any of the victim's property. The deputy knew Remington did not have access to a vehicle and questioned how he travelled to California. Remington claimed he had purchased a truck from his uncle to make the trip and he refused to provide his current address or uncle's contact information. He was offered the opportunity to return the property with no further action and continued to deny involvement, YCSO reported. A deputy later contacted one of Remington's family members who was unaware of the "uncle" Remington mentioned.
Further investigation on December 30 lead deputies to a home on Palo Verde Drive in Chino Valley where Remington was suspected of staying. They found Remington at the home that evening, but he continued to deny stealing any property, YCSO reported.
Assisting deputies got permission from the property owner to check an outbuilding on the property, YCSO reported. Once inside, they found several of the victim's airsoft rifles. A further search revealed both the stolen shotgun and rifle. The video game console was located in another part of the house. Remington had been at the Chino Valley home for at least a week, YCSO reported.
"Remington eventually admitted to involvement in the burglary but blamed the idea on another suspect," said YCSO spokesperson Dwight D'Evelyn. "This part of the investigation is ongoing, but deputies have not made additional arrests."
Remington was booked into the Yavapai County jail on charges including burglary, theft of firearm and 19 counts of theft. He remains in-custody on a $2,500 bond.
SUBMIT FEEDBACK
Click Below to:
More like this story