Polar bears take plunge at Mountain Valley Splash
Ice Princess defends his title

Originally Published: January 6, 2019 7:37 p.m.
Jumping out of the pool at Mountain Valley Splash and making a beeline for her towel, Shaylee Nation made it clear in no uncertain terms that she was freezing.
Nation was among 61 other polar bears taking the plunge at the 14th annual Polar Bear Splash Saturday, Jan. 5, and said all she wanted was something for her feet. Still, she'll probably do it again next year, she said.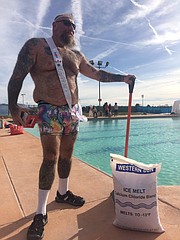 Another polar bear doing it for their first time was Zach Denison who got into it because his mother, Betsy Denison, saw it was happening.
"It just looked like fun and so I asked my kids … 'hey is anybody interested in a polar bear plunge,' hoping they would all say 'are you kidding no way,'  " Betsy Denison said. "They all said 'sounds great.' "
Despite the cold weather, Zach Denison said he was looking forward to getting in the water, adding he thought it would be fun.
Before the plunge even happened, though, others took part in a donut eating contest, ice cream eating contest, rubber duck race and the Ice Princess Contest, seeking the best-looking and hairiest bare chest. Junior Pemberton, last year's winner, defended his title making him a two-time Ice Princess. After winning, Pemberton said he felt confident and was getting ready to jump in the pool for his second plunge.
For Joshua Thornbury, participating in the Polar Bear Splash is a tradition, one that's been going on for five years. Thornbury likened it to a New Year's resolution.
"It's almost like a restart," he said. "You jump in the water, you come you, you're all fresh, ready for a new year."
With Thornbury was his fiancée Kristy Romero who was participating for her second year. The two of them tried to get more of the community involved in the event but Romero said she didn't see anybody she knew.
While some may look to jump in and get out as soon as possible, Pemberton said he stays in a little longer to collect washers thrown in before the splash that corresponded to various prizes.
"I get in, try and get the rings," he said.
More like this story
SUBMIT FEEDBACK
Click Below to:
This Week's Circulars
To view money-saving ads...