Days Past: Levi Bashford's 'Opera House' was in Howey's Hall
Tom Collins, Special to the Courier
Originally Published: January 5, 2019 7:31 p.m.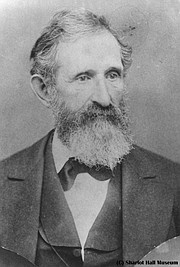 If you visit the Pioneer Living History Museum, just off Interstate 17 near Anthem, one of the first structures you will see is the old "opera house," a two-story brick building reconstructed, the museum claims, from the original bricks of Levi Bashford's opera house in Prescott.

The original building stood where our City Hall stands today, on the southeast corner of Cortez and Goodwin streets, opposite the Post Office. James Howey, Prescott's blacksmith and wagon maker reportedly constructed the Romanesque Revival building in 1875-76 for Michael "Big Mike" Goldwater, for whom Howey had worked at the Vulture Mine near Wickenburg. Goldwater had just closed two failing mercantile stores in Phoenix and Ehrenberg, so he and his brother Joe headed for Prescott.

Howey's two-story brick building was waiting for them. It measured 30 feet across in the front and 60 feet long, with 14 feet between the joists, the perfect size for their mercantile business. Big Mike and Joe leased the building and opened it in late 1876 as the "Goldwater & Brother General Merchandise" business, according to the painted banner across the top of the building. Big Mike's son, Morris, soon to be mayor of Prescott, took on the management.

But the Goldwaters' occupation was only temporary. In 1880, they began construction of a very similar building at the corner of Cortez and Union streets, facing the plaza. The notable difference was the pediment at the top of the new building. Morris rented the second floor to the Masons as a meeting room.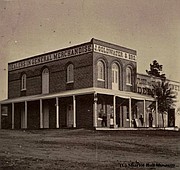 So, in July 1881, James Howey advertised the availability of his beautiful brick building, noting that it would make a fine hotel. But nobody seemed to want it. Howey was forced to put his hall up for auction. The town's leading businessman, Levi Bashford, finally purchased it at auction in September 1881 and took formal possession in March 1882. The question was, what would he do with his new property? For a short time, he let the building as a grocery store. Then it was an armory for the Prescott Rifles, a local militia organized in 1883 by Morris Goldwater. The Milligan Guards also used it as a meeting room and for the fancy-dress balls that they threw for Prescott citizens.

The turning point came when the Prescott Theatre on Alarcon Street mysteriously burned down in November 1883. Now lacking a performance space, the local thespians moved into Howey's Hall, most likely on the second floor. They probably constructed a platform for a temporary stage. The new leaders of the Prescott Dramatic Club were Joseph Dauphin and Harry Carpenter, who had come to Prescott with Pauline Markham's "H.M.S. Pinafore" company in December 1879 and decided to settle here.

In late 1884 and early 1885, the Prescott amateurs staged a number of one-act comedies, including Offenbach's operetta "The Rose of Auvergne." James L. Hall, Prescott's new mayor, starred in the famous temperance drama, "Ten Nights in a Bar-Room" in 1885. It told the sad story of Joe Morgan, an alcoholic whose innocent little daughter is fatally injured in a barroom brawl. The show was a special treat for the 13th Territorial Legislature, which met in Prescott.
When the dramatic club disbanded in April 1885, Howey's Hall became a roller-skating rink. Roller-skating became a fad in 1880s America when major improvements were made in the design of the skates.
Shortly thereafter, Prescott businessmen made plans to construct the Prescott and Central Arizona Railroad, which would open for business in December 1886. Levi Bashford foresaw an influx of new residents and a booming tourist economy. And this meant that Prescott now needed a well-equipped place of amusement. So, he hurried to construct a proper theater in Howey's Hall — with a raised stage, proscenium arch, velvet curtains, and upholstered opera chairs — to attract professional touring troupes. It would be Prescott's cultural and social center for the next 13 years.

This is just the beginning of the story, which Prescott author and lecturer Tom Collins will tell in an entertaining and beautifully illustrated presentation at 2 p.m. Saturday, Jan. 12, in the West Gallery of Sharlot Hall Museum's Lawler Exhibit Center. The lecture is free and open to the public. Come and hear about the professional actors who brought the thrill of live theatrical entertainment to Prescott's pioneers!
"Days Past" is a collaborative project of the Sharlot Hall Museum and the Prescott Corral of Westerners International (www.prescottcorral.org). This and other Days Past articles are also available at https://www.sharlot.org/articles/days-past-articles.l. The public is encouraged to submit proposed articles and inquiries to dayspast@sharlot.org. Please contact SHM Library & Archives reference desk at 928-445-3122 Ext. 2, or via email at archivesrequest@sharlot.org for information or assistance with photo requests.
More like this story
SUBMIT FEEDBACK
Click Below to: