Sterling Achievement: Coach spent 5 seasons turning moribund Bradshaw Mountain program into winner
Prep Girls Soccer
By
Doug Cook
|
dougout_dc
Originally Published: January 4, 2019 8 p.m.
PRESCOTT VALLEY — John Sterling has little trouble recalling a conversation he had with former Mingus girls soccer coach Buddy Rhodes regarding how long it takes to turn a struggling high school varsity program into a winner.
And although Sterling wasn't particularly thrilled with Rhodes' answer of "10 years," the former hasn't backed down from coaching a Bradshaw Mountain program established in 1997-98 that was in decline when he began his tenure in 2012-13.
"He's like, 'You're doing good things, but it's going to take time,'" said Sterling, quoting Rhodes before practice Jan. 4 at the high school.
While there have been rough spots in Sterling's seven-year journey, the Bears are turning the corner sooner than even Rhodes may have expected.
"When they [school administrators] hired me, they said, 'We want this to no longer be a social program club. We want this to be a sport,'" Sterling said. "And we just started adding things — the weight room and the conditioning."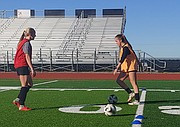 In 2017-18, after five straight losing seasons, Bradshaw Mountain broke through.
The Bears concluded the campaign with a 9-6-0 record with a veteran group. They lost to Palo Verde Magnet in the 4A state tournament play-in round on Jan. 25, 2018, in Prescott Valley. And yet the Bears were a victory away from qualifying for state.
The writing was on the wall. … Or was it?
Sterling entered the 2018-19 season with no seniors on a 17-player roster. He rolled the dice with five juniors, five sophomores and seven freshmen.
On Nov. 27, at the Bears' opener in Phoenix, Bradshaw Mountain got blanked by Arcadia, 8-0. But Sterling didn't panic. He saw signs that his team could be a winner, as long as the players stayed together.
He was right.
The Bears won their next six matches, outscoring the opposition, 35-2, while delivering three shutouts. Albeit green, Bradshaw Mountain is scrappy and talented.
With six matches remaining this season, all in the Grand Canyon region, the Bears own a 7-2-0 record.
"It came as a shock to us all, really," junior goalie Delaney Johnson said. "After our first game, it was kind of rough. But then we hit a streak where we were just going at it each game. We were really quick learners, actually."
After a 12-day holiday layoff, Bradshaw Mountain returns to its home pitch at Bob Pavlich Field when it plays host to Coconino at 5 p.m. Thursday, Jan. 10.
"We have a favorable schedule this year, but it's just been time [to succeed]," Sterling said. "Finally, everything is starting to come together, I hope."
THE TEAM
Bradshaw Mountain's strength starts up top with sophomore star attacker Hailey Denman. Through nine matches, the 5-foot-4 phenomenon has tallied a team-high 25 goals (2.8 per game) and a club-best seven assists.
"We're working more as a team," Denman said. "Last year, we had a lot of talent, but we weren't blending together. But this year we're connecting passes, and that's the main difference."
Striker Alexis Clynes (six goals, three assists), midfielder Bria Coleman (three goals, five assists), defender Alissa Berry (three goals, assist), halfback Sarah Hacker (two goals, three assists, six steals) and MF Julien Sarno (two goals, two assists) also stand out.
Johnson has a goals against average of 2.09 (12 goals allowed, 30 saves) for a .700 save percentage in 460 minutes. Johnson, Denman and Hacker are co-captains.
"We're working hard, and we're earning it," Hacker said. "And we're going to continue to work hard to get better. It's a building season."
The struggle for Bradshaw Mountain through the years has been the inability of its players' families to afford playing Club soccer year-round. The Bears have lagged behind region foes Flagstaff and Prescott, for example, which typically have a pool of Club players from which to choose.
On the 2018-19 Bears squad, only Denman, Coleman and Hacker play Club.
For now, though, the focus shifts back to the 2018-19 Bears and whether they can show that the 10-year plan isn't all it's cracked up to be. Bradshaw Mountain wants to prove the doubters wrong and get to state for Sterling.
"He's a great coach — he pushes you, and he's going to give it to you straight," Denman said. "He's going to help us on things that we need and he's gonna show us what we need to fix.
"But at the end of the day, he's proud of us if we're trying our hardest and playing our game."
Doug Cook is a reporter for The Daily Courier. Follow him on Twitter at @dougout_dc. Email him at dcook@prescottaz.com or call 928-445-3333, ext. 2039.
More like this story
SUBMIT FEEDBACK
Click Below to: