Fitness done differently

Originally Published: January 3, 2019 9:49 p.m.
New Year, New Body — that's the mantra of many coming into 2019 with the New Year's Resolution to get in shape.
Yet many burn out and the gyms slowly lose population until only the truly dedicated remain. Instead, they may want to try something other than the traditional workouts. Take VIPER Fitness, 601 Miller Valley Road. Owned by Personal Trainer Jeremy Maisenbach, VIPER Fitness trains a lot of beginner to intermediate clientele with many of them being 65 or older and offers TRX training that he said uses certain straps hung from the ceiling.
"We're able to put clients through strength training exercises but without the impact of lifting heavy weights," Maisenbach said. "They're only using their body weight as resistance."
It's a low impact training system and no matter what position a person is doing, they're always engaging their abdomen or core, he said.
As for setting goals, at VIPER Fitness, the staff follows the mantra of little steps equaling big change, because the best result is a workout you can do consistently, Maisenbach said. Everyone wants the results immediately but doesn't want to be nonfunctional the next day after working out, he said.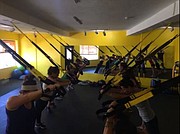 "If somebody leaves here and they can't function the next day, in their minds, especially for a beginner, that's going to set up a negative aspect to fitness," Maisenbach said. "They're going to be like 'Why do I want to go to the gym to work out if all I'm going to be is sore the next day?'"
Focusing on small steps that the person can see, which translates into feeling themselves getting better as they progress, makes people want to work out even more, he said.
Another way for people to work out and lose weight without burning out is by climbing. Gripstone Climbing in Prescott Valley, 319 N. Lee Blvd., is a climbing gym that has been around for less than a year and offers a whole setup of climbing routes and classes for people to learn how to climb, said co-owner Tony Yaniro. It also has a fitness center for cardio and for people to do free weights to help balance their climbing, Yaniro said.
"Climbing works your whole body and is a real good flexibility and strength workout," he said. "The best part about it is you're having fun so you can do a lot more of it before you get bored."
When people first come in, they can get pointers on how to get started and use the equipment so they can climb without any supervision, he said. There's also a smoothie bar with health-oriented smoothies.
Open every day from 9 a.m. to 9 p.m., Gripstone Climbing is unique to the quad-city area and gives people a chance to get fit without drudgery, Yaniro said.
"There's nothing like it in town," he said, adding it has a "social atmosphere, people hang out and have a good time."
For more information about VIPER Fitness, visit www.viperfitprescott.net or call 928-277-6131. For more information about Gripstone Climbing, visit www.gripstone.net or call 928-458-7579.
More like this story
SUBMIT FEEDBACK
Click Below to:
This Week's Circulars
To view money-saving ads...