Aftermath continues from New Year's Eve Day storm
'Catch-up' effort continues through Friday

By
Cindy Barks
|
Cindy_Barks
Originally Published: January 2, 2019 9:44 p.m.
Chino Valley: No significant problems with storm, roads
The storm was a little bit more manageable for the Town of Chino Valley, said Town Manager Cecilia Grittman.
"I don't think we had any significant problems," Grittman said.
There were a few residents who asked about snow plows, she said, pointing out that the town does not have any.
Chip seal roads don't react well to plows, Public Works Director Frank Marbury added. However, crews have put down cinders to increase traction.
— Jason Wheeler,
The Daily Courier
The first two days of 2019 had street-maintenance crews in Prescott playing catch-up.
In the aftermath of the New Year's Eve Day storm that dumped anywhere from 6 inches to a foot of snow throughout the area, snowplows were out in force Wednesday, Jan. 2, and abandoned and wrecked cars were still lining many of Prescott's streets.
"We're still working to catch up," Prescott's Street Maintenance Superintendent Bobbie King said at about noon, Wednesday.
By late that afternoon, King and other city officials had already received well over 100 calls from residents asking for snow-removal service.
King reported that she had received 71 calls at her extension at the Prescott Public Works Department. In addition, she had been forwarded six or seven emails from other city departments, each relaying between four and 10 similar requests for service.
From those calls and emails, King said she makes a list of streets and passes it on to snowplow crews, who work to get to all of the locations.
Still, icy conditions remained Wednesday — especially in shady areas — making it difficult or impossible for snowplows to get to some areas, King said.
CLEANUP EXPECTED THROUGH FRIDAY
Assuming that the forecast for warmer weather on Thursday and Friday is accurate, King said, "We're hoping, depending on the temperatures and the sunshine, we can it get it done by Friday (Jan. 4)."
The heavier-than-expected snowfall began in earnest Monday morning, Dec. 31, and continued throughout much of the day. King said the snow levels varied throughout the community, but that most areas got anywhere from a half-foot to a foot.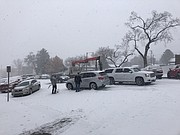 The large amount of snow, combined with the relatively cold temperatures throughout the day, wreaked havoc on the community as residents were preparing for New Year's Eve.
King speculated that the storm was especially problematic because the streets were already cold, and the snow began accumulating almost immediately.
"Normally, we get a thermal gain, where the roads absorb the heat from the sun, and the snow melts right away," King said.
As the snow accumulated, traffic packed it down — creating slick conditions on well-traveled routes.
HAZARDOUS CONDITIONS
Among the impacts were the several-dozen car accidents that occurred as drivers slid through icy intersections and into other vehicles.
David Fuller, lead police officer and public information officer for the Prescott Police Department, reported about 35 known accidents — one of which resulted in two injuries.
Although numbers were still preliminary on Wednesday, Fuller said a total of 20 accidents were reported to officers or through the department's online system on Monday, Tuesday, and Wednesday.
In addition, he said, at least 15 other minor accidents were reported, for which police dispatchers advised drivers to exchange insurance information, without the involvement of a police officer.
"It was very busy on Monday," Fuller said. "The snow came down in a hurry, and maybe caught some people off guard."
In such cases, he said the police department advises drivers to — first of all — prepare before leaving home. And, if caught unprepared, Fuller suggests that drivers think ahead to the best and least hilly/hazardous route home.
ABANDONED CARS
That was not possible for many residents who live in high-elevation neighborhoods, however.
Although neither King nor Fuller could estimate the number, they both said that many vehicles were abandoned alongside the streets — either because of accidents or because drivers were unable to navigate steep streets.
King said the clusters of abandoned cars caused frequent problems for snowplow operators who had a difficult time getting around the parked vehicles.
"It's understandable that people leave their cars at the bottom of the hills," King said. "But sometimes, the plow can't get through. It's a snowball effect."
Sunny conditions with 50-degree-to-56-degree temperatures are being forecast for Prescott on Thursday and Friday — conditions that King said would significantly help the situation.
Still, more precipitation — both rain and snow — is in the forecast for the weekend. The National Weather Service is predicting a chance of snow Saturday night and then snow and rain throughout the day Sunday.
More like this story
SUBMIT FEEDBACK
Click Below to: