Powers: Here's to a fantastic New Year
All About Pets

Originally Published: January 1, 2019 5:45 a.m.
Updated as of Tuesday, January 8, 2019 6:57 PM
EDITOR'S NOTE: This column was revised from an earlier version.
Wow! 2019! How about some New Year's pet resolutions? Better to start late than not at all!
Most dogs find their twice-daily walks as highlights in their day. If it is cold, just put on a few more layers. This event is so needed and healthy for all concerned.
Play time is important — as are brief training sessions. My guys really look forward to both because wonderful treats are involved in the training and play is fun.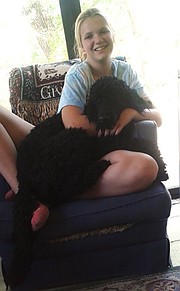 One thing that is so important to me and to the guys is the ritual of my leaving the house and returning. It only seems fair to tell them that I am leaving — and naturally they get a little treat at that time. I always say as I am walking out the door, "You be good guys. I will be back." And when I return, even if I am only gone for an hour or less. One quick honk of the horn when I am in front of the house and then, by the time the car is in the garage and I am walking toward the door, I call out — "Is anybody home?" As I walk into the house, there is great rejoicing. It is wonderful to be welcomed so warmly. (I have one that sits on his perch at the front window the whole time I am gone, watching for my return.)
Don't forget the daily Kong. These wonderful hard-rubber objects with a hole for stuffing hold a wonderful assortment of small goodies that hopefully take a few minutes for the dogs to extract. They are also great for when you leave the house, particularly if the dog spends time in a crate. Like the walks, this is another thing that my guys will not let me forget at the end of the day. Fill them with anything yummy including baby carrots, peanut butter, other tasty healthy morsels and break up some dog treats.
Another of my preaching points — Make mealtime special. Let the dogs watch you as you prepare their meal. That adds so much excitement and intrigue to the event. Dehydrated and freeze-dried foods that need rehydration take up to 15 minutes. (This is wonderful nutrition to add to kibble.) Set the timer where they can hear it tick and hear it ring. When it rings, you can be sure they will be right there ready and eager to indulge.
Twice-a-day feeding is important - preferably right before you sit down to your meal. And if you have a picky eater as I do, set the food down for 20 minutes and set the timer. If it is not consumed, pick it up. It is so unhealthy to leave the food sitting out all day as the quality quickly deteriorates. And in my house, if the one leaves his dish, the other — who does not need it! — will sneak over and consume it very rapidly.
A very important point; what is healthy for us to eat is generally good for our dogs, excluding onions. grapes and a few other things. They should not get the drippings of fat left in the pan or the fat from the steak. If you read the label on a high-quality dog food, you will see all sorts of familiar things like meat, vegetables, fruit, and rice. So if you are munching on fresh broccoli or a carrot, share with your friend!
Among the New Year's resolutions should be an annual visit to the vet and also renewing the dog license. When I received the notice that my licenses were due, it stated that my BoJangles is a toy poodle. Whoever wrote that has not had him sitting on his lap!
A very happy 2019 to all. And may it be a new awakening in the relationship with your wonderful pet.
Christy Powers is a freelance writer whose passion is studying and writing about pet health, nutrition and training. She can be reached at cpowerspak@gmail.com
More like this story
SUBMIT FEEDBACK
Click Below to: