Southwest Leather Workers Trade Show returns

Originally Published: February 28, 2019 10:22 p.m.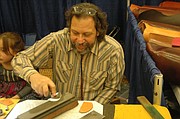 The 19th annual Southwest Leather Workers Trade Show returns to Prescott this weekend and is bigger than ever, according to organizer Ralph Solome, Jr., Leather Crafters & Saddlers Journal publisher.

"The show just continues to grow because once people come to Prescott to the show, they talk about it," Solome said. "It gets a little bit bigger each year."
There are more than 40 workshops this year, grown because of the amount of registrations, he said. It's a sign that people are enjoying the show and pursuing leather work, he said. Focuses of the workshops include carving realistic skulls, concealed carry gunleather, English saddle repair 101, and how to make leatherwork pay for itself.
Other aspects of the trade show include the leather carving contest, exhibiting pieces of leather decorated and carved by people from around the world, and the Emerging Saddle Makers competition, now in its third year. The competition was started by local saddle and holster maker Dusty Johnson for saddle makers who have less than three years of experience and whoever wins gets a cash prize to further their saddle making and education.
Though workshops have been going since Tuesday, Feb. 26, they continue through Sunday, March 3 and the Trade Show itself begins Friday, March 1 and runs through Sunday. The show is open from 9 a.m. to 6 p.m. Friday and until 5 p.m. Saturday and Sunday at the Prescott Resort & Conference Center, 1500 Highway 69.
Pieces from the leather carving contest will be on display Friday and Saturday, March 2 and the saddles in the Emerging Saddle Makers competition will be shown Friday through Sunday.
Leather is quite an interesting medium to work with and it seems to attract a fun and engaging group of people, Solome said.
"It has a tactile quality that really seems to capture people's imaginations," he said.
For more information about the 19th annual Southwest Leather Workers Trade Show, or for a full list of available workshops and their prices, visit www.leathercraftersjournal.com/southwest-leather-trade-show.

More like this story
SUBMIT FEEDBACK
Click Below to:
This Week's Circulars
To view money-saving ads...