Hundreds of fentanyl pills, 10 pounds of meth seized by Sheriff's Office K9 team
Originally Published: February 28, 2019 5:22 p.m.
Updated as of Thursday, February 28, 2019 6:39 PM
Colorado resident Timothy Milliard, 52, was arrested Wednesday, Feb. 27, after a K9 deputy from the Yavapai County Sheriff's Office found hundreds of fentanyl pills and 10 one-pound packages of methamphetamine — with a street value of more than $200,000 — during a traffic stop on Interstate 17 near Cordes Lakes.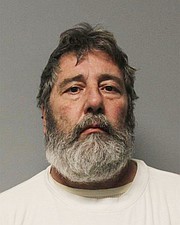 The deputy initiated the traffic stop at around 8:30 p.m. after noticing an equipment violation from the gray Chrysler 300 traveling north on I-17, according to a news release from Dwight D'Evelyn, media relations coordinator for the Yavapai County Sheriff's Office.
Milliard exited onto Arcosanti Road and failed to stop at a stop signed intersection, D'Evelyn said.
"During a discussion with the deputy, Milliard exhibited extreme nervousness and concern about the presence of the deputy and his backing partner," D'Evelyn said. "Based on his training and experience, the deputy believed Milliard was likely in possession of drugs and other contraband and requested a consent to search. Milliard declined."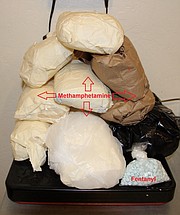 The deputy's certified K9 partner, "Vader," was then used for an exterior sniff of the vehicle and displayed an alert. Based on that, deputies began checking the vehicle for the source of the odor and found a cold food bag containing the packages of methamphetamine in the trunk.
Searching the interior revealed a bag containing several hundred blue pills similar to others seized recently containing fentanyl, D'Evelyn said. At the YCSO evidence facility the pills tested positive for fentanyl.
Milliard was booked into the Yavapai County jail in Camp Verde on charges including Transportation of Dangerous Drugs, Possession of Dangerous Drugs for Sale, Transportation of a Narcotic Drug and Possession of a Narcotic Drug. He remains in custody on a $15,000 bond.
The investigation is continuing, D'Evelyn added.
"I am proud of the work YCSO K9 teams are doing to combat the influx of these deadly drugs into and through Yavapai County and will continue to support the efforts of this dedicated team and our Partners Against Narcotics Trafficking (PANT) task force," Sheriff Scott Mascher stated in the release.
"The work being done here will likely save lives as these illegal drugs will never see the streets."
Information and photos provided by the Yavapai County Sheriff's Office.
StopFentanylNow
SUBMIT FEEDBACK
Click Below to: