Fourth Friday Art Walk turns 15

Originally Published: February 28, 2019 10:45 p.m.
It was Friday, Feb. 27, 2004, the inaugural Fourth Friday Art Walk in Prescott - it snowed then too, said 'Tis Art Center & Gallery Marketing & Art Education Coordinator Patti Ortiz, noting she felt nostalgic on the Art Walk's 15th anniversary Friday, Feb. 22.
"Back in 2004, for the very first art walk … it started snowing," Ortiz said. "Within a half hour, we had like three or four inches."
Due to the severe winter storm of last week, February's Fourth Friday Art Walk was postponed to Friday, March 1.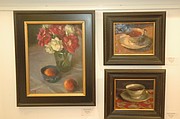 Looking back at 15 years of Art Walks, Ortiz said she couldn't pick a favorite artist featured by 'Tis and that she loves them all.
On Friday, the reception at 'Tis will feature not only the Making Our Mark 2019 show, showcasing the Contemporary Printmakers of Prescott, in the main gallery, but also "Still Lives" paintings by Neil Orlowski and sculpture by Paul Walter in the Mezzanine Gallery. It will be from 5 to 7 p.m.
Having Orlowski and Walter featured on the 15th anniversary of the Fourth Friday Art Walk is fabulous as both of them are art teachers, Ortiz said. Walter is the art instructor at BASIS Prescott and Orlowski teaches oil and acrylic painting in the 'Tis Annex Building.
Ortiz said she wanted to thank all the venues and program sponsors who support the program, especially Ida Kendall of the Frame & I and the Art Store who has been supportive for the whole 15 years.
Not all of the galleries on the Art Walk have been taking part in the event since its inception 15 years ago though. Scot A. Weir, owner of the Weir Gallery, has only been open for a few months, since November 2018.
Weir said he enjoys participating and that it's always nice to have something for people to do in the evening.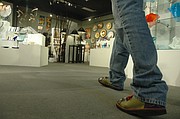 "People are real receptive and when people come for an art walk, they're there to see art, he said. "They're really interested. The people that show up for an art walk are people that love art."
'Tis Art Center & Gallery is located at 105 S. Cortez St. and the Weir Gallery is located at 110 S. Montezuma St.
Other galleries taking part in the Fourth Friday Art Walk include Mountain Artists Guild, 228 N. Alarcon St., showcasing "Musical Muse," artwork by Dawn Zintel in "Flights of Fancy" and "A Conversation with Horses" from 5 to 7 p.m.; the Sean Goté Gallery, 702 W. Gurley St., with 22 abstract paintings by Arizona artist Allen Dutton and a new selection of men's Western Jewelry and leather accessories by Scully and Lucchese; Van Gogh's Ear, 156 S. Montezuma St., and its more than 60 local and nationally known artists; and Arts Prescott Cooperative Gallery, 134 S. Montezuma St., displaying the work of western artist Gerry Metz.
For more information and a full list of participating galleries, visit www.artthe4th.com.
More like this story
SUBMIT FEEDBACK
Click Below to: