Derek Evans is Teddy Roosevelt

Originally Published: February 28, 2019 10:35 p.m.
For the last 15 years, Derek Evans has been bringing Theodore Roosevelt back to life and he's coming to the Elks Theatre and Performing Arts Center next week.
After doing a lot of educational programming in schools when he was younger, an agent he knew approached him about doing a Roosevelt show, Evans said. At the time, he was not prepared to sit down and do the years' worth of work it would take to put a decent hour-long show together, he said.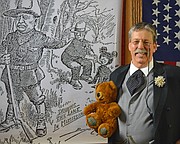 "This agent was very persuasive and she got me to read some books," Evans said. "That was a mistake because I hadn't gone 50 pages before … I discovered that I was in the presence of a walking miracle, one of the most extraordinary men who ever lived."
Looking at Roosevelt's resume, not only did he preside as the 26th President of the United States of America, but he built the Panama Canal, passed the Pure Food and Drug Act as well as child labor laws and workers compensation laws, put 230 million acres of land away for public use and won the Nobel Peace Prize in 1905 for settling the Russo-Japanese War almost all by himself, Evans said. Additionally, one of the things Roosevelt was most proud of was not being involved in a war while he was president.
When PBS did a series on all of the American presidents, they did an hour-long program on each president but had to do four hours on Roosevelt, Evans said.
"The reason he was interesting is because he was interested," he said. "There wasn't anything that he wasn't interested in. He had a sort of fierce curiosity about everything he encountered."
Evans performance, titled "Theodore Roosevelt: Man in the Arena," is at 7 p.m. Tuesday, March 5. Tickets are $25 for adults, $22 for seniors and $12 for 18 and younger and are available online at www.prescottelkstheater.com, by calling 928-777-1370 or at the door one hour prior to the performance.
The reason he's doing a tour of shows in Arizona is because it is the 100th anniversary of the Grand Canyon becoming a national park, something Roosevelt is more responsible for than any single man, Evans said.
"In 1906, a cadre of wealthy developers approached him and wanted his help in doing what they then called improving the Grand Canyon, as if it were possible to improve the Grand Canyon," he said. "But what they meant by improving was they wanted to build railroads in the Grand Canyon, they wanted to do mineral mining, they wanted to build hotels in the Grand Canyon."
As a response, Roosevelt said he wouldn't allow it and used the Newlands Reclamation Act of 1902 to declare a presidential bird sanctuary on the floor of the Grand Canyon and the Antiquities Act of 1906 to declare its walls a presidential monument, Evans said.
Though there were many people who fought for what was then called conservation, it was Roosevelt who brought the subject into the national consciousness, he said.
For more information about Evans and his show, visit www.thetrshow.com. The Elks Theatre and Performing Arts Center is located at 117 E. Gurley St.
More like this story
SUBMIT FEEDBACK
Click Below to:
This Week's Circulars
To view money-saving ads...