Costs add up for Prescott's snow removal
Emergency declaration could help to recoup some expenses

By
Cindy Barks
|
Cindy_Barks
Originally Published: February 28, 2019 10:15 p.m.
The final tally is still weeks away, but a preliminary review indicates that February's monster snowstorm did a number on the City of Prescott's budget.
Even before the three-day snowstorm that hit Prescott this past week, the city had used up more than half of its budgeted snow removal-related funds on earlier storms.
Prescott Public Works Director Craig Dotseth reported this week that four consecutive snow events — beginning with the New Year's Eve storm on Dec. 31, and continuing with storms on Jan. 13, Jan. 18, and Feb. 4 — had used up about $70,000 of the $125,000 that had been budgeted in the snow-related categories of materials and maintenance/repairs.
And that was before last week's near record-setting storm.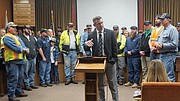 "The doozy event was number five," Dotseth said, referring to the Feb. 21-23 storm that dumped more than 2 feet of snow on Prescott.
FLUCTUATING COSTS
City officials say the final numbers for that storm are still being tallied, as payroll and overtime costs come in.
Still, Dotseth noted that his department had 70 workers out on the streets and answering calls, and most were on time-and-a-half overtime wages.
In addition, he said, the city entered two $25,000 contracts with private companies, Fann Contracting and Earth Resources Corporation, to haul the snow out of the downtown area.
Budget and Finance Director Mark Woodfill said the city's snow-removal costs fluctuate widely from year to year, based on the severity of the winter.
Last year (fiscal year 2018), for instance, the city spent a total of $60,000 on snow removal for the entire year, Woodfill said.
For the previous two years (fiscal years 2016 and 2017), the totals were around $212,000 per year, while in the two years before that (fiscal years 2014 and 2015), the totals were $57,000 and $60,000, respectively.
Woodfill predicts that once this year's numbers are in, the snow-removal expenses for fiscal year 2019 will exceed all previous years. "This year will outdo all of those," he said, noting, "and we're not done yet."
POSSIBLE REIMBURSEMENT
While any unbudgeted costs would initially be paid through the city's reserves, Fire Chief Dennis Light said there is a possibility that some of the costs for the Feb. 21 storm could be recouped through the emergency declaration signed by Mayor Greg Mengarelli.
Light explained that two thresholds for reimbursement exist. The first would involve a federal declaration, which would require a total Yavapai County emergency cost of $800,000. "It is very, very unlikely that any sort of federal declaration would come out of this storm," Light said.
More likely would be a state declaration, which could come through the Arizona Department of Emergency Management. Although there is no specific financial threshold amount, Light said the state would base its declaration on the ability of an entity to manage its emergency response out of its appropriations for the year.
Light said the city is working to compile expenses such as payroll, contract receipts, fuel costs, and equipment costs. "It could take four to six weeks to pull that together," he said. If successful, the effort could result in a partial reimbursement of the city's snow-response efforts.
SUCCESSFUL RESPONSE
Prior to the start of last week's storm, the city heeded the forecasts and assembled multiple departments and dozens of employees to deal with the impacts.
During the Tuesday, Feb. 26, Prescott City Council meeting, Mengarelli commended the many city workers who helped with effort.
More than 40 of the workers were on hand at the meeting and lined up onstage while Mengarelli lauded their efforts.
Mengarelli thanked those workers, as well as the department heads who set up an emergency operations center to allow for instantaneous decisions on emergency responses.
Community Outreach Manager John Heiney said the emergency operations center was in place from about 3 a.m. Thursday until 5 p.m. Friday. Throughout the storm, key city officials met multiple times, and Heiney issued four weather-update press releases on Thursday and three on Friday.
CHANGES SINCE NEW YEAR'S EVE
Last week's storm response differed from how the city responded to the New Year's Eve storm, Mengarelli said.
"On Dec. 31, we had a snowstorm, and we didn't do so well," he said, adding that he takes responsibility for the city's response on the New Year's Eve storm. "We did not plan and prepare and get ahead of that storm."
But, Mengarelli said, that set the stage for the city's successful response for the Feb. 21 storm.
Dotseth pointed out that the New Year's Eve storm was different from last week's storm in that the Dec. 31 weather forecast called for rain, not snow. "There was no forecast that it was going to get that cold," he said.
Noting that the Jan. 13 and 18 storms had also not been forecast for snow, Dotseth said the Public Works Department has changed its preparation measures.
"Even if they're saying 'just rain,' we are preparing" by having workers on standby and equipment ready, he said.
While rain is forecast for the coming weekend, Dotseth said Public Works will have staff on standby, in case the temperatures drop unexpectedly.
More like this story
SUBMIT FEEDBACK
Click Below to:
This Week's Circulars
To view money-saving ads...