Man gets 20 years in prison for quad-city area crime spree
Judge: 'I'm not sure that 20 years is enough based on what you did'

By
Max Efrein
|
mefrein
Originally Published: February 25, 2019 7:50 p.m.
A Mesa man responsible for a belligerent crime spree that started in Mesa one morning and ended on the streets of Prescott that same afternoon has been sentenced to serve 20 years in prison.
Lantio David, 32, started the spree by stealing a car in Mesa on a Monday morning, Sept. 10, 2018. He drove the car up to Dewey, where he shoplifted a bottle of whiskey and some gasoline at Blue Ridge Market.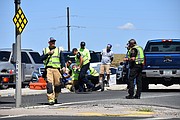 "When the shopkeeper tries to stop him from stealing the bottle of whisky and the gas, he throws a can of beer at her and drives away with the gas pump nozzle still in the car," Michael McGill, a prosecutor with the Yavapai County Attorney's Office, said during David's sentencing Monday afternoon, Feb. 25.
He made it about two miles down the road before the next, and "probably the most severe," crime occurred, McGill said.
While driving through the intersection of Highway 69 and Fain Road, he crashed into two vehicles. The stolen car he was driving was too damaged to leave the scene, so he got out and tried stealing a nearby car in the middle of the intersection. The owner of the car managed to lock her doors and drive away as he was trying to force his way into it, but "not before the defendant throws a bottle of whiskey at her car," McGill said.
Undeterred, David turned to another vehicle stopped in the intersection, pulled the driver – an elderly man – out of it, threw the man to the ground, and began driving away, damaging other vehicles as he did. As he was attempting to flee, a witness sitting in traffic at the intersection got out of his vehicle with a pistol and shot at David in an apparent attempt to stop the carjacking.
Despite being under fire, David managed to escape the crash site. He then crashed into another vehicle near Sundog Ranch Road before continuing into Prescott.
Police finally stopped David's spree when they found him at the intersection of Gurley and Pleasant streets in Prescott.
"They find him because the car is parked on the sidewalk while he's trying to steal yet another vehicle… and then he fights with police," McGill said.
Overall, there were 15 victims involved, not including insurance companies, McGill said.
In defense of David's actions, his attorney, Christopher Misbach, said David committed the crime spree after having a "horrible day."
"He had just lost his job, he was losing his home and he wasn't even able to cash his last paycheck," Misbach said. "At that time, the way he coped with what he felt was his entire world falling apart was to get drunk. That's what lies at the heart of all of this is a substance abuse issue. He tried to cope with alcohol and lost control."
McGill countered this by saying that being heavily drunk does not excuse David from the amount of harm he managed to do.
"I understand that some of that explanation can be mitigated through the level of intoxication, but this is someone who by himself or under the influence poses a significant risk to the community," McGill said. He added that as David was getting booked into jail after the crime spree, "He was bragging and giggling about the vehicles he had stolen and the damage he did." David also already had two prior felony convictions on his record. The first was for the attempted sale or transportation of dangerous drugs in 2010, and the other was misconduct involving weapons in 2015.
Considering these and other factors, Yavapai County Superior Court Judge Patricia Trebesch decided to impose the maximum sentence allowed in the plea bargain offered to David by the Yavapai County Attorney's Office: 20 years. Had she been able to impose a harsher sentence, she possibly would have.
"I'm not sure that 20 years is enough based on what you did," Tresbesch said to David.
Before the sentence was passed, David expressed remorse and ultimately seemed calm and collected when the sentence was passed.
"I apologize for my actions," he said before the final sentencing. "They were uncalled for and I can only be lucky that nobody truly, truly got hurt. I respect whatever amount of time you give me."
Follow Max Efrein on Twitter @mefrein, email him at mefrein@prescottaz.com or call him at 928-445-3333 ext. 1105.
More like this story
SUBMIT FEEDBACK
Click Below to: