City of Prescott, its inhabitants returning to normal after snowstorm
Postal Service resumes deliveries
Originally Published: February 25, 2019 8:02 p.m.
It was a "Snow-pocalypse" or "Snow-mageddon," depending on who you ask, and it hit Yavapai County on Thursday and Friday, Feb. 21-22.

Prescott received anywhere from 21 to 28 inches of snow during the storm, according to the National Weather Service. An average Prescott February will see about 5 inches of snow, National Weather Service spokesperson Brian Kilmowski said.
Photo Gallery
Gallery 9 Snow Storm 022319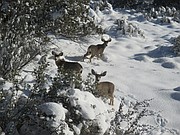 Photo Gallery
Gallery 8 Snow Storm 022219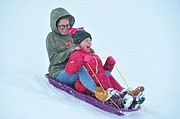 As far as storm totals, this most recent one did not break any records locally, Kilmowski said Monday.
Prescott has incomplete snowfall records, Kilmowski said, because there has not always been an observer taking records.
"This was a very unusual storm," Kilmowski said. "Probably a top 10 event."
CITY TAKES ACTION
Prescott Mayor Greg Mengarelli felt the storm was enough of a threat that he signed an emergency proclamation Thursday, Feb. 21.
By signing the proclamation, Mengarelli authorized the city to seek reimbursement if and when a state or federal emergency or disaster declaration was made.
The city, according to a news release, had plow crews from the Streets Division on rotating 12-hour shifts, operating 24 hours a day beginning Wednesday.
Mengarelli previously told the Courier after signing the proclamation, "We're seeing pretty good accumulation already. The plows are doing a good job, but they're having trouble keeping up."
Mengarelli rescinded the proclamation Saturday.
EMERGENCY SERVICES RECAP
The Prescott Fire Department responded to 314 calls while law enforcement answered 371 calls for services that resulted in emergency responses by 5 p.m. Friday.
"We did have a bit more radio traffic and quite a few more people stuck in the snow. I believe that people were getting a bit tired of being inside and were deceived by the conditions and ventured out," Prescott Police Department spokesperson David Fuller said. "Overall, I think that the response and help that we received during this weather event was very positive."
The mayor sent a message to city staff via email Friday night saying, "I would like to express our appreciation for your leadership during the recent storm. On behalf of the council, thank you for your dedication, diligence and efforts during the storm."
MAIL
As for the U.S. Post Office, it is still dealing with fallout from the storm.
Prescott resident Bob Lazarus said Monday he has not received mail since the snow storm began, but saw at least one mail truck racing around over the weekend.
"We thought, 'Oh great, we are going to get caught up; we are going to get our mail,' but he never got to my street even though my street was clear of snow and ice," Lazarus said while exiting the Miller Valley Post Office.
Josh Farmer, officer in charge of the Postal Service for the greater Prescott area, said the Post Office had employees working Thursday, but they were not able to do any deliveries. On Friday, Farmer said, the Post Office had no employees working because the mayor declared the state of emergency.
Saturday is when deliveries began going out.
"We tried to deliver as many as we could safely, but trying to navigate all the ice was pretty treacherous," Farmer said.

Farmer said the Post Office worked a full shift Sunday to get the remaining packages left over from the storm out. On Monday, the Post Offices were fully staffed, Farmer said, and mail carriers were attempting to deliver to every address.
It will case by case, Farmer said, if the addresses are clear. "As long as the carrier can get to the mailbox then as of (Monday), they will be receiving delivery," Farmer said.
Farmer said the best thing people can do is clear out a way to their mail box or find someone who can so their mail deliveries can resume.
Otherwise, Farmer said, the Post Office will attempt to deliver mail daily. If the mail cannot be delivered, it will come back to the Post Office and be marked no access-box obscured.
George Johnston is a reporter for The Daily Courier. Follow him on Twitter at @GeorgeSJohnston. Reach him by email at gjohnston@prescottaz.com, or call 928-445-3333, ext. 2038.
More like this story
SUBMIT FEEDBACK
Click Below to: