Winter storm response update: high alert still in effect

Originally Published: February 22, 2019 4:52 p.m.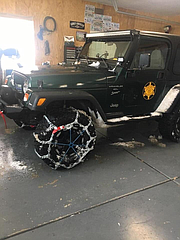 First responders, snow plow operators and cleanup crews have not let up in their efforts to maintain public safety and ensure access to essential services.
Since a major winter storm began sweeping through much of Arizona late Wednesday night, Feb. 20, these front-liners have been working around the clock.
According to the Arizona Governor's Office, the Arizona Department of Transpiration (ADOT) still has 200 snow plows deployed with 400 snow plow operators manning them throughout the state.
The Arizona Department of Public Safety has also deployed additional troopers to affected areas to assist stranded motorists. In the last 24 hours, troopers responded to hundreds of slide offs and stuck vehicles, the Governor's Office stated.
Local agencies have maintained a similar level of effort by having off-duty personnel and volunteers assist with basic operations in the challenging conditions.
For instance, volunteers with the Yavapai County Sheriff's Office (YCSO) have been working tirelessly to transport first responders and critical medical staff to their work locations. Since Thursday morning, Feb. 21, those volunteers have completed over 79 escort missions, YCSO spokesperson Dwight D'Evelyn said. Much of that effort has been from the Yavapai County Jeep Posse and the Yavapai County Search and Rescue Team.
"Many folks were extremely grateful for the dedication the volunteers showed to take this on," D'Evelyn said. "They even got some judges to the court house."
D'Evelyn wishes to make clear, however, that those escort services have not and will not be for the general public's use.
"This is not a general taxi-service and calls requesting assistance will be screened under the limitations indicated," D'Evelyn said. "The Sheriff's Office appreciates everyone's understanding as these volunteer resources are already spread thin."
For anyone who does need to move or transport someone who otherwise is unable to access transportation due to the weather, D'Evelyn suggests calling your respective law enforcement agency to determine the best course of action.
"If it is an emergency, call 911," he said. "For county areas, rescue teams are only dispatched with approval from the Sheriff's Office."
While the end of the storm is near, emergency officials continue to encourage residents to play it safe and not travel on the roads until roads have been completely cleared and icy conditions have diminished.
They also ask that drivers not stop on road shoulders to play in the snow.
"Stopping on road shoulders is extremely dangerous," the Governor's Office stated.
ADOT crews are expected to begin repairing roads and filling potholes caused by freezing conditions as soon as Monday.
SUBMIT FEEDBACK
Click Below to:
More like this story