Award-winning Yasmina Reza's 'Art' opens at Stage Too!

Originally Published: February 21, 2019 4:20 p.m.
Yasmina Reza's "Art," winner of the 1998 Tony Award for Best Play, is showing at Prescott Center for the Arts' Stage Too!, directed by Paul Epoch.
Telling the story of three friends (played by James Pyduck, Jonathan Perpich and Walton Mendelson) who find their solid relationship on shaky ground after one buys an expensive painting where the canvas is white with a few white lines, it was described as a show that "sails along, funny, engaging and devilishly efficient," by Nelson Pressley, a freelance writer for The Washington Post.
Newsweek called it "Wildly funny" and "naughtily provocative," sounding "like a marriage of Molière and Woody Allen."
Epoch said he submitted it several years ago and did it as a Readers Theatre. It got his attention about 15 years ago and it's been on the list to do, but never got selected until last year, he said.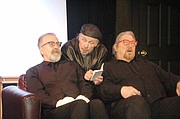 The production on Stage Too!, in the alley behind the Prescott Center for the Arts, has a great process with a beautiful cast and crew and a clear concept of what they wanted from the play, Epoch said.
"The concept being that this piece of art has … (a) mysterious effect on all of the characters and what ultimately pulls them apart brings them together," he said. "So to me, the play is about acceptance."
One of the more difficult aspects of putting on the show was the language, Epoch said. It was translated from French to English, and in a play containing a lot of description, some of the translation can be lost, he said.
Still, even though some of the translation can be lost, Epoch said he has enjoyed working with the cast and crew. The acting is impeccable as well, he said.
"We all share a vision, and that's just to bring the best possible piece of art to the stage where they become the art," Epoch said.
Tickets are $19 and available online at www.pca-az.net or at the door. Showtimes are 7:30 p.m. Friday and Saturday, Feb. 22-23 and Thursday through Saturday, Feb. 28-March 2 and March 7-9 and 2 p.m. Sunday, March 3, and Sunday, March 10.
There is a preshow with performance artists half an hour before each performance.
Stage Too! is located in the alley at 219 N. Cortez St. Prescott Center for the Arts is located at 208 N. Marina St. For more information about the show, visit www.pca-az.net.
More like this story
SUBMIT FEEDBACK
Click Below to: