Emergency responders report positive first day of storm
Quiet on the front, very few crashes

By
Max Efrein
|
mefrein
Originally Published: February 21, 2019 5 p.m.
All's good in the neighborhood so far, according to local emergency personnel.
Despite challenging weather conditions throughout Thursday, Feb. 21, local firefighters received very few reports of significant vehicle crashes or local residents needing weather-related emergency assistance.
"It has been remarkably quiet and easy to manage," Prescott Fire Department (PFD) Fire Marshal Don Devendorf said. "There have been very few accidents, very few stalled vehicles; it's just been a really good day. I think the public just did a great, great job of staying home, hunkering down and just letting the storm do its thing."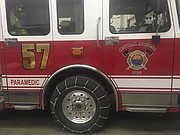 Central Arizona Fire and Medical Authority (CAFMA), which serves, Prescott, Prescott Valley and Dewey-Humboldt, repeated this sentiment.
"It's been very good," CAFMA Battalion Chief Todd Abel said. "We've just had our typical EMS/medical calls."
Both fire agencies prepped for the storm by bringing on additional off-duty staff to help out throughout the duration of the storm and putting chains on all their vehicles' tires.
Devendorf said there have been vehicles sliding off the roads in Prescott and a semi-truck that lost control and jack-knifed on Highway 69 near Lowes around mid-morning, but none clogged up the roadways for too long or resulted in anyone needing medical assistance.
"They were slow-moving accidents," he said.
The Yavapai County Sheriff's Office (YCSO) also reported a relatively quiet day.
"We had approximately six collisions reported countywide since late last night and there were several assist motorists calls regarding stranded vehicles," YCSO spokesperson Dwight D'Evelyn said. "Overall, we were pleased that most folks stayed home as recommended."
The storm is only halfway over, however, according to weather reports, so people are encouraged to continue playing it safe and resisting travel if possible, officials said.
"The overall lack of traffic has had a significant impact on reducing collisions and calls for service," D'Evelyn said.
As for emergency personnel, they intend to just keep doing what they did today.

"Our plan of action right now is to repeat today until the snow event is over," Devendorf said.
Follow Max Efrein on Twitter @mefrein, email him at mefrein@prescottaz.com or call him at 928-445-3333 ext. 1105.
SUBMIT FEEDBACK
Click Below to:
More like this story