Suspect in stolen truck case turns himself in
Truck has still not been found
Originally Published: February 20, 2019 5:25 p.m.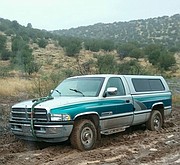 A man suspected of stealing a truck in Mayer turned himself into Yavapai County Sheriff's Office's Mayer sub-station and admitted stealing the truck Tuesday, Feb. 19.
Bengamin Henry Blasco, 20, said he had been made aware that his photo was being shared across social and classic media channels and decided against hiding from authorities, said Yavapai County Sheriff's Office (YCSO) spokesperson Dwight D'Evelyn.
Blasco provided YCSO deputies with information on the whereabouts of the truck, a 1995 Dodge 2500 single cab pickup, but it has yet to be found, D'Evelyn said Wednesday afternoon.
"The victim of the theft admitted he left the vehicle unlocked with the keys inside and it appears the suspect took advantage of a criminal opportunity," D'Evelyn said.
Blasco was booked into the Yavapai County jail in Camp Verde on charges including theft of vehicle, burglary and criminal damage. He remains in custody on a $20,000 bond.
More like this story
SUBMIT FEEDBACK
Click Below to: