Schools watchful for drugs but focused on vaping going into spring

By
Max Efrein
|
mefrein
Originally Published: February 20, 2019 9:11 p.m.
First it was Jared Friederick, 18, in June 2018, and then it was Gunner Bundrick, 19, and Jake Morales, 19, the following November. All three young men had grown up in Prescott Valley and graduated from Bradshaw Mountain High School. All three tragically overdosed due to taking imitation oxycodone pills laced with fentanyl, a powerful opioid responsible for the death of countless individuals throughout the U.S.
After the deaths of Morales and Bundrick, local schools and other organizations began spreading a message: Illicit prescription drugs are more dangerous than ever before.
Prescott Valley jumped on this first with a community-wide forum about the opioid epidemic in mid Nov.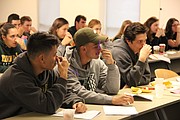 Prescott then had its own community-wide fentanyl-focused forum on Dec. 10, followed by a high school-focused effort in Chino Valley on Dec. 13.
"We had detective Pizzi come out and do a schoolwide presentation on fentanyl," said Chino Valley High School Principle Heidi Wolf. "We also had two couples in recovery talking about addiction also, which was very strong."
Since then, however, things have quieted down on the fentanyl awareness front within schools.
Educators throughout the Quad-cities said they're looking out for pills and the like, but until something comes up again, they don't plan to host any more opioid education forums or programs in the near future. Instead, they're looking at what is proving to be a more pervasive epidemic among young students: vaping.
"Unless we're told or we find somebody with pills on them, for us the bigger issue – to be honest with you – is vaping," Wolf said.
That concern appears to be the priority on just about every school official's mind going into the spring.
"Working with MATFORCE, we're gonna try to do a vaping conversation here," said Prescott High School Principle Mark Goligoski. "Honestly, if we had a struggle right now, it's that and everything that's associated with that."
Bradshaw Mountain High School may be the only exception given the three young men who died last year from fentanyl were alumni. Its principle, Kort Miner, said the school is currently working with MATFORCE, United Way and its teachers to figure out some sort of structured presentation that can be delivered to individual classrooms throughout the school's campus in the fall.

"We were originally talking about getting 30 alumni and having them present in two days," Miner said. "Each graduate would present in a different classroom of 20 to 25 students."
The idea originated from friends of Bundrick and Morales who expressed interest in speaking with current Bradshaw students about the dangers of opioids. A Bradshaw alumni who was leading this effort could not be reached for comment.
Though Merilee Fowler, Executive Director of MATFORCE, and Miner believe that peer-to-peer education can be effective, they both said the challenge is ensuring the message is uniform and delivered appropriately. There's some uncertainty in entrusting a random bunch of recent high school graduates to do this well, they said, so they're considering just having teachers do it.

"We know our teachers are going to be smarter about it," Miner said.
YAVAPAI COLLEGE ATHLETES GETTING INVOLVED
Something area schools can expect in upcoming months to help enforce substance abuse prevention education are visits from Yavapai College athletes.
Sixteen athletes from the college have begun training with MATFORCE on how to talk to youth about the dangers of various substances. The athletes are expected to start the campaign this spring by going to middle schools and high schools throughout the Quad Cities to present about the harmful effects of vaping and marijuana use, two trends that are on the rise among young students, according to the 2018 Arizona Youth Survey.
"I thought 'what a great idea for our student athletes to get out there,' because they should be looked at as role models," said Yavapai College Athletic Director Brad Clifford.
Additionally, Bundrick and Morales were Yavapai College Students and Bundrick even played baseball for the Roughriders last spring.
"We've all been touched by what's been happening recently with local deaths of young kids, and I think that's part of why I really wanted us to get involved with MATFORCE," Clifford said. "This training is not only for the young kids, but it's training for us as well."
Share #StopFentanylNow
More like this story
SUBMIT FEEDBACK
Click Below to: