Stolen truck suspect in custody
Deputies have leads on truck's whereabouts
Originally Published: February 19, 2019 12:18 p.m.
Updated as of Tuesday, February 19, 2019 2:30 PM
UPDATE:
As of 1 p.m. Tuesday, Feb. 19, the suspect is in custody.
Deputies with the Yavapai County Sheriff's Office (YCSO) have leads on the truck's whereabouts and are actively searching for it, said YCSO spokesperson Dwight D'Evelyn.
ORIGINAL STORY:
Stolen truck suspect caught on surveillance camera sought by police
The Yavapai County Sheriff's Office is seeking information about a truck theft this past weekend.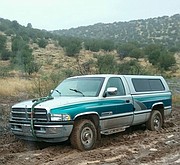 Deputies took an auto theft report in the 12300 block of Central Avenue, Mayer on Feb. 17, 2019. The vehicle was stolen between the hours of 9 p.m. Feb. 16 and 6 a.m. Feb. 17.
The stolen vehicle is a 1995 Dodge 2500 single-cab pickup truck. It is two-tone silver with a green stripe (AZ license plate CEA0624). The camper shell has been recovered.
Deputies located security video footage of the vehicle pulling into the Pilot gas station in the 14900 block of Cordes Lakes Road, Mayer, at 5:30 a.m. on Feb. 17. The vehicle approached the station from the direction of Cordes Lakes area, but it is unknown what direction it went upon leaving. The auto theft suspect is pictured.
On Feb. 17, the camper shell from the truck was located in a desert area west of Cordes Lakes.
Please call the Sheriff's Office at 928-771-3260 or Yavapai Silent Witness at 1-800-932-3232 if you can identify the suspect or have any information as to the whereabouts of the truck. Some witnesses recognized the suspect as a resident from the area. There was a second person in the vehicle, but they did not exit the vehicle.
Information provided by Yavapai County Sheriff's Office.
SUBMIT FEEDBACK
Click Below to:
More like this story