Local in Brief: CPR class sponsored by PV Chamber of Commerce set for Feb. 21

Originally Published: February 18, 2019 6:16 p.m.
Learn how to help someone else in need by attending a CPR class sponsored by the Prescott Valley Chamber of Commerce and New Life CPR during heart month! The class takes place on Feb. 21 from 3 to 5:30 p.m. behind Costco and Joes' Furniture, 3767 Karicio Lane – Suit C- Coner – Under CPR letters. The cost for members is $15 per person and must be prepaid prior to class with a credit card. The class is limited. Please give us a call at 928-445-5024 or find more information by emailing us at Lesa@NewLifeCPR.org.
Natural History Institute presents 'Alpenglow' on Feb. 21
An educator, a writer and an explorer join together at 7 p.m. Thursday, Feb. 21, to present "Alpenglow: The practice of art and Natural History in the Range of Light" at the Natural History Institute, 126 N. Marina St. in Prescott.
Brian Scavone is a naturalist and educator. Eric Smith, also a naturalist, is a songwriter, and Ryan Alonzo is a photographer and explorer.
Join these three men for a unique 2-hour program focused on Yosemite National Park and the High Sierra which features Alonzo's exquisite photography together with poems and songs from Scavone and Smith.
For more information call 928-863-3232, or email info@NaturalHistoryInstitute.org.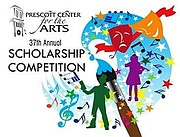 Prescott Center for the Arts announces art scholarships; entries close Feb. 22
Prescott Center for the Arts is announces its 37th annual scholarship competition is open for registration.
The competition is open to all students in the Quad Cities area who are between 10 and 18 as of Jan. 1, 2019.
Last year, over $12,000 in scholarships ranging from $50 to $1,000 were awarded to 68 winning students. There were a total of 217 entries.
For complete details and online registration, please visit www.pca-az.net and select the Youth & Education tab and then the Scholarship tab.
Entries for the music and drama competitions close at 5 p.m. Feb. 22. Registration for the Art competition will be March 26 and 27. It is important to follow the registration rules to be able to enter the competitions.
More like this story
SUBMIT FEEDBACK
Click Below to:
This Week's Circulars
To view money-saving ads...