Orme, BASIS Prescott students excel at Yavapai County Mathematics Contest
Prescott High School places 2nd in College Bowl

Originally Published: February 17, 2019 10 p.m.
Five Orme School mathletes scored in the Top 10 students, and in several other categories, with first and second place overall individual winners in the Yavapai County Mathematics Contest Jan. 24 at Embry-Riddle Aeronautical University. Six BASIS Prescott students – there was a seventh place tie – made up the other Top 10 individual winners.
The annual event is open to all high schools and middle schools in Yavapai County that offer math courses in Algebra 1 and above. Students can compete in four types of events: individual, team, College Bowl, and research question. This year, nine schools and 200 contestants competed.
Prescott High School's team earned a second place in the College Bowl, third place in the team contest, and third place overall in the individual contest, said Sara Tomlin, PHS math teacher.
Orme also earned a first and second place in the team competition with a rarely seen perfect 50 score.
"BASIS and Orme took all the first 10 places in the individual, but neither school were in the top three overall," said Orme math teacher and coach, Stephen Wolfe. "That is because we both are small (we only had 13 contestants) and so could not accumulate so many points overall."
The College Bowl pits the best teams from each school in a fast-paced competition in a rotation of two schools at a time. Orme's Ngoc (Naomi) Dinh Bao Nguyen competed in all three rounds pushing the buzzer within seconds of the problem popping up on the overhead screen. Most teams take longer and confer on an answer before hitting the buzzer.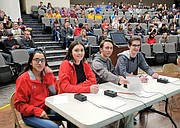 "Naomi responded to the questions sometimes before I had even finished reading them," Wolfe said. As a result of Naomi's speed and accuracy, Orme won the College Bowl competition, he added.
Bradshaw Mountain High School placed second in overall team standings. Danny Hoang, Liberty Traditional School, earned a third place at the Level 1 category, and Shawn Stouder, Bradshaw Mountain Middle School, received fourth place.
Two students from Heritage Middle School finished in the top five at the Level 1 category. Bryanna Bertrand earned a second place and Jessica Cardel-Kennedy received a fifth place award. Jayda Lealasgata, Chino Valley High School, earned a fifth place at the Level 2 category.
Level 1 is first year students taking Algebra 1 or Integrated 1. Level 2 includes Geometry and Algebra II. Upper level participants are in their third-fifth year of college prep mathematics with classes that include trigonometry, statistics and calculus.
The competition began with the team contest in which teams of three or four student compete to answer 8 to 10 questions in 45 minutes using no calculators.
The individual contest consists of multiple-choice tests with 50 questions to answer in 60 minutes. Again, students cannot use calculators. Questions come from algebra, geometry, advanced algebra, pre-calculus, and problem solving. Each student indicates what level they have achieved in their math courses. Awards are given at each level.
Ending the competition is the nail-biting, on-the-edge-of-your-seat College Bowl. The top teams from each school level participate as four-member teams in paired circular system rounds.
Questions are projected on a screen and read simultaneously. The team buzzing in first and giving the correct answer earns a point. If the first team to buzz in gives an incorrect answer, the other team is given an opportunity to answer the same question. Calculators are not allowed.
In addition, students may work on a Research Question prior to the contest either individually, in a small group or as a class. They have to show their work, explain their thinking, express results for interesting special cases, and explore how their results can apply to similar situations and problems. Judges look for completeness, correctness, insight and clarity of exposition.
Northern Arizona University, ERAU and the North Central Arizona Mathematics and Science Consortium sponsored the competition.
Follow Sue Tone on Twitter @ToneNotes. Reach her at stone@prescottaz.com or 928-445-3333, ext. 2043.
More like this story
SUBMIT FEEDBACK
Click Below to: