Sharlot Hall Museum groundbreaking puts focus on education efforts
Originally Published: February 16, 2019 8:33 p.m.
Updated as of Wednesday, February 20, 2019 5:34 PM
UPDATE, Feb. 20: This groundbreaking has been re-scheduled for Feb. 28 at the same time, because of the pending winter storm coming into the area, museum officials said this week. The following story has been revised for that date.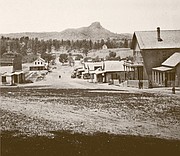 On Feb. 28, a ground-breaking ceremony at Sharot Hall Museum will begin the construction phase for a new Education Center on campus.
Its completion (expected early 2020) will refocus attention on the Museum's educational mission and enhance Prescott's heritage as the cultural centerpiece for the Central Highlands.
Construction of the new two-story Center will provide a needed venue on the Museum campus for expanding the educational programming conducted throughout the year, as well as available space for exhibits, collections, and educational displays at the Museum.
For 90 years, the Museum has played a central role in the education of local youth. Exhibits and programming expose more than 6,000 children annually to the people and events that preceded them in history. These opportunities have laid the foundation for our youth as to who we are as a people, our heritage, and what it means to be an Arizonan... for that matter, an American.
Educational programming includes monthly lectures, demon­strations, volunteer training, children's activities, presentations, festivals and additional program activities. Children's day camps include the Day in the Life program, a two-day multi-cultural camp for home-schooled youth and the Yavapai-Prescott Indian Tribe.
This and other youth programming is designed to fulfill Arizona social studies standards for children in grades one through eight. The challenge has been space. Despite the encompassing four acres, the array of historic structures, exhibit galleries, herb gardens and a heritage rose garden do not provide adequate instructional areas.
There may be space on the grounds for outdoor activities, but instructional capacity is currently limited to 50-seat theater and a 70-seat gallery space. With completion of the new Education Center, the multipurpose room doubles as an event venue or 132-seat theater. Additional classrooms and indoor conference space will facilitate expanded activities, especially in the circumstances of inclement weather.
A secondary benefit to the Museum expansion is that of additional exhibit space. Completion of the Education Center will allow relocation of the theater and gallery, thereby freeing space for planned exhibits and displays in the Lawler Exhibit Center.
Completed in 1979, the 'Lawler' was planned to showcase the area's history with its exhibit space, and to preserve more than 40,000 objects in the Museum's collection of artifacts - of which only about 6 percent are on display.
By reallocating space (made possible with the new Education Center), much-needed exhibit space in the Lawler Center will allow expansion of exhibits and displays to include early exploration by Spanish conquistadors, mountain-men, fur-trappers, and Army surveyors, moving forward to the founding of Prescott with its development into the 20th century, including the world wars and the Depression.
Groundbreaking is set for Thursday, Feb. 28, beginning at 4 p.m. at the construction site - corner of McCormick Street and Beach Avenue (one block south of Gurley Street). For more information, call 928-445-3122, or visit the website: www.sharlot.org.
More like this story
SUBMIT FEEDBACK
Click Below to: