Life and time of Valentine's: What businesses do after the big day
Originally Published: February 16, 2019 7:28 p.m.
Is there life after love? For some Valentine's Day products the answer is "yes." Others have a different and, some may say, unfortunate afterlife.
At Pralines of Prescott, some Valentine's Day items go through a reincarnation. As long as there are no nuts or fruit in the product, Pralines can melt down certain chocolates and turn them into something else.
"That's the cool thing about chocolate; you can do about anything to it," Pralines of Prescott owner Sean Babb said this past week.
Discounts for Valentine's Day items started at end of the day Thursday for the candy store. The following day more items were marked down, Babb said.
Babb said selling Valentine's Day products post-Feb. 14 is always hit and miss.
"Last year, I remember the chocolate suckers kept selling and the little treasure boxes sold a little bit," Babb said. "They move OK, but it is slow and steady."
At Dollar Tree, Valentine's Day products come in after Christmas, General Manger Andrea Hendrix said.
Discounts on Valentine's Day products began Feb. 15 at 25 percent, said Hendrix, but those discounts could go up to as much as 90 percent depending on how quickly items sell.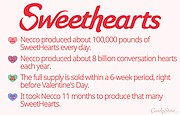 "I don't really expect much to be left after Thursday the way we are selling right now," Hendrix said earlier in the week. "Everything should pretty much be gone."
Dollar Tree balloons that are Valentine's Day specific will be thrown out. Whatever Valentine's Day items remain after the sale, Hendrix said, will be returned to a Dollar Tree distribution center.
Mostly people don't come into Dollar Tree for their post-Valentine's Day sales, she said, adding that it is mainly an impulse buy when they do come in.
"If they see it and it is on sale, and it depends on what it is, then they'll buy it, but they don't come in specifically for it after Valentine's Day," Hendrix said.
SWEETHEARTS
Some may have noticed this year that Sweethearts — those chalky heart-shaped candies with messages like "U R Sweet" written on them, also known as Conversation Hearts — were missing from stores this year. This is because of the bankruptcy of NECCO, the company that made the candy, which debuted in 1901.
The Dollar Tree in Prescott Valley did sell some of the few remaining packages of Sweethearts. Hendrix said the Sweethearts sold out within the first week they were put on shelves — "they saw it and bought it." That should come as no surprise, since the candy was the best seller in the state. The imitation heart shape candies from Brach's Seasonal and Everyday Candy sold fast as well, she added. Once the Sweethearts were gone, no one asked about them, Hendrix said.
Spangler Candy Company bought NECCO in 2018 and may return Sweethearts to stores next year. "We wish we could have Sweethearts out for the 2019 Valentine season, but it's just not possible," Spangler told Candystore.com. "We are committed to making sure these brands meet consumer expectations when they re-enter the market. Doing it right takes time."
More like this story
SUBMIT FEEDBACK
Click Below to: