CAFMA fire inspection fees increasing
Jurisdiction moving to 100% cost recovery

By
Max Efrein
|
mefrein
Originally Published: February 16, 2019 10:25 p.m.
Central Arizona Fire and Medical Authority (CAFMA) will be increasing its fire inspection fees as of March 1 to match the cost of providing the service.

CAFMA Fire Inspector Brett Mills initially presented the proposed fee changes to the fire agency's board of directors during their monthly meeting Monday evening, Jan. 28. He said each new fee has been carefully determined using a 100 percent cost recovery methodology, whereas the previous rates were rough estimates dating back more than a decade.
"All the [old] fees (for sprinkler and alarm inspections) range from $150 to $250," he said.
The new fees are much more detailed and broken down into various categories, such as construction permits or operational permits, and commercial or residential. They are then calculated based on how much personnel time is required to fulfill each service, whether that be an inspection of a commercial fire alarm system or a residential sprinkler system.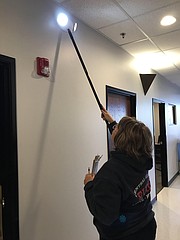 "We actually get quite a few residential sprinkler systems," said CAFMA Fire Marshall Rick Chase.
Homes require residential sprinkler systems if they are either more than 5,000 square feet or are in a sprinkled subdivision, "which we have some of those," Chase said.
HOW THE FEES COMPARE
During their fee schedule review, Mills and his colleagues compared their new fees to Prescott Fire Department's — which were last updated in 2016 — and found them to be relatively comparable if annual growth is taken into account.
"Some of their fees are higher, some of their fees are lower than ours, but most of them, I would say, are well within the general range," Mills said.
Two examples he provided are for a commercial sprinkler system and commercial sprinkler modification. For the first, Prescott's fee is $375 and CAFMA's is $499. For the second, Prescott's fee ranges from $150 to $225 and CAFMA's is $362.
When Prescott Fire updated its fees in 2016, officials calculated exactly what it costs the department to conduct inspections, but were directed by Prescott's City Council not to seek full cost recovery for the service.
"We started with the direction from the council to be at 100 percent cost recovery, but the council backed off that decision," said Don Devendorf, Prescott Fire Department's fire marshal.
Instead, the fees were set at about 75 percent cost recovery and an escalator was put in place so that it remains at that percentage moving forward.
The department will likely revisit its fire inspection fees next year; they usually evaluate it about every three years, Devendorf said.
"There's no guarantee that just by looking at our fees, that we'll be doing anything with them, but we will evaluate based on the area, cost of living, and things like that," he said.
WHAT CONTRACTORS THINK
After presenting the proposed fee hikes to CAFMA's board and getting unanimous approval to move forward with the changes, Mills and his colleagues presented the fees to members of the Yavapai County Contractors Association (YCCA). This was done to help local contractors understand why the rate adjustment is taking place and help answer any of their questions.
Sandy Griffis, executive director of YCCA, said she is in full support of the changes.
"Our organization feels that yes, it's time," Griffis said. "[CAFMA staff] did an exceptional job in looking at cost recovery, and more and more jurisdictions should really be going to this because it removes the fees coming out of the general funds that taxpayers are having to absorb."
As with any work-related costs faced by a contractor, these fee increases will be passed onto the consumer, Griffis said.
"[The cost] is reflected in the contractor's bid estimate or cost for services, which his client pays," Griffis said.
EFFECTS ON ECONOMY
Some people fear that moving to a 100 percent cost recovery model could slow down economic development in an area or cause a business to move its operation to another area to avoid the additional fees, but Griffis said that fear is no longer legitimate, for the construction industry "is all moving to 100 percent cost recovery."
She pointed to how Yavapai County recently moved to this model for construction in unincorporated areas and that YCCA championed the effort.
"These fee increases will in no way deter economic development from happening in our area," Griffis said.
HOLDING CONTRACTORS ACCOUNTABLE
To add an additional layer of accountability for contractors, CAFMA's new fee schedule also includes a fine for unpermitted work that is three times the normal inspection fee.
"We're trying to provide a deterrent to keep [contractors] from doing unpermitted work," Mills said. "It's not a real big problem in this organization. However, we have had a few instances where we've found contractors that are doing unpermitted work, and that creates a safety hazard not only for the public, but for our firefighters."
Griffis supports this addition to CAFMA's fee schedule as well.
"I think it's only going to make better of some of these contractors that are having trouble following the process," Griffis said.
More like this story
SUBMIT FEEDBACK
Click Below to: