Music Festival attracts 300 high school students to Yavapai College

Originally Published: February 15, 2019 9:22 p.m.
More than 300 top high school musicians from Northern Arizona spent two and a half days at Yavapai College participating in the annual Arizona Music Educators Association's Northwest Region Music Festival.
Practicing hard for a Saturday afternoon, Feb. 16, concert the choir, band and orchestra students rehearsed diligently in the newly reconfigured performing arts spaces at Yavapai College.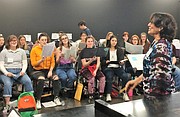 This is band director Rob Lubbers' third regional festival, and he was thrilled with the quality of talent this year's students presented. "I am so pleased they came in prepared," Lubbers said, adding that nearly every hand went up when he asked who had listened to a recording of any of the pieces the students would be playing this weekend.
Students receive the music two weeks ahead of time to practice their parts individually. This week they had eight hours to rehearse with fellow students from the Northwest Region — one of eight regions in Arizona — and prepare for the concert.
"They're eager, amazing, and fun, fun, fun to work with," Lubbers said Friday after a morning rehearsal that included "Symphonic Dance No. 3 Fiesta" by Clifton Williams.
In another large practice room, Rita Scholz rehearsed the gospel song "Will the Circle Be Unbroken" with the combined choir members. Scholz is the choir director at Highland High School in Gilbert and has been an educator for 35 years, said Amy Van Winkle, choir director for Bradshaw Mountain High School.
Every region selects the best of their best to audition for, attend and perform in the regions' festivals. Some students then will audition for a chance to participate as an All-State music student in March.
"Most elect not to audition," said Dan Bradstreet, music director for Prescott High School, who said, as an adult, he certainly would try out for All State, but acknowledged not many 14- to 18-year-olds want to.
The festival also is an opportunity for high school juniors and seniors to consider attending Yavapai College in its performing arts programs. About 24 students gathered over a box lunch Friday to listen to Yavapai College music professor Chris Tenney and Associate Dean of Performing Arts Dr. Craig Ralston talk up the college's programs.
"We have awesome programs, awesome fun and an awesome faculty," Ralston said, describing the music, theatre and dance programs with both onstage and backstage experience. "We like to do big shows."
Arlene Hardy, the festival's choral coordinator from Yavapai College, said community colleges offer greater opportunities for students to perform in theater shows and as soloists.
Yavapai College recently announced two incentives for its students. Beginning with the Fall 2019 semester, students enrolled for 12 credits can get an additional three credits at no cost. Also, students completing a degree program by attending seven consecutive semesters, including summer sessions, will get their tuition reimbursed in what is called the "Yavapai College Promise Program."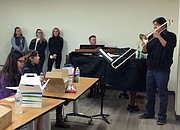 Three students from Washington High School in Phoenix said they were definitely interested. "Prescott is different; it's a change of pace from the city. I would consider it," said senior Wilber De La Cruz Evangelista. Sophomore Gloria Ruvalcaba, flute player, said she likes the scenery, the weather, and, "the campus is very pretty."
During the pitch, Tristin John, Prescott High School graduate and member of the Yavapai College Jazz Band, played a short piece on the trombone.
"The biggest thing I like about Yavapai College is the environment. The professors are extremely competent, and there is an ample amount of resources to enable us to move forward as musicians," John said. He is in his second semester.
Maya Sharratt, Bradshaw Mountain High School graduate in her second year at Yavapai, performed a vocal piece. Both students have earned music scholarships.
For more information about the college's performing arts programs, visit yc.edu/performingarts.
Quad-City participants in the Northwest Region Music Festival.
Prescott High School
Alora Zimmerman
Brandon Rainery
Connor Pitts
Jack English
Jesse Lall
Jonathan Tavares
Clayton Hinton
Sophia Corradi
Bree Williams
Tatum Allard
Kolob Fransworth
Oliver Arminio
Brandon Willison
Tony Gutierrez
Manti Farnsworth
Lila Keane
Noah Eder
Jacob Pettebone
Mayla Steele
Mia Davis
Ashton Rauch
Jacob Muniz
Ciara Murphy
Annie Beaupre
Sophia DeVito
Mackenna Davis
Jacob Mull
David Wauters
Salvador Blea
Samuel Davis
Brig Tipton
Emily Aranda
Makayle Thompson
Lily Hunter
Isaiah Carman
Josh Sherman
Brian Van Vorst
Simon Barbe
Bradshaw Mountain High School
Joseph Cesarini
Simon Stull
Steven Martin
Xander Leyva
Lindsey Wooten
Nathaniel Hawley
Emma Steverson
Morgan Engelby
Omelia Rohrbough
Dominick Torres
Cameo Richter
Chino Valley High School
Caitlynn Dickinson
Christian Vanister
Tri-City Prep
Rani Thompson
BASIS
Kate Miller
SUBMIT FEEDBACK
Click Below to:
More like this story