Murphy's Celtic Legacy dances into YCPAC

Originally Published: February 14, 2019 9:56 p.m.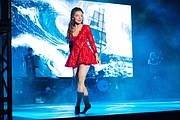 The classic irish themes of yearning, adventure, struggle and triumph are coming to the Yavapai College Performing Arts Center with Murphy's Celtic Legacy dances into Prescott.
Not only is the group coming to Prescott for their first time, but it's their first tour in the United States, said Chris Hannon, founder, director and lead dancer of Murphy's Celtic Legacy.
Taking the athletic flair of step dancers and blending them with the flying fiddles and catchy reels of traditional Irish folk music, Murphy's Celtic Legacy is "Irish dance reborn," a notion Hannon said came about in differentiating the group, which started in 2013, from Riverdance and other groups that have been around for a long time.
"It was just about we're different, we've got a storyline, different costumes," he said. "Irish dance reborn was the perfect hashtag for that."
Taking the stage at 7:30 p.m.,Friday, Feb. 15, Tickets for Murphy's Celtic Legacy start at $29. Reservations can be made by calling the Yavapai College Performing Arts Center box office between 10 a.m. and 4 p.m. at 928-776-2000 or by visiting www.ycpac.com.
With 23 dancers and seven musicians, Murphy's Celtic Legacy tells the saga of an Irish clan who, beset by corruption and injustice in their home country, set sail in search of a new land where their heirs can prosper and grow, according to a news release from Yavapai College.
"But, in true Irish fashion, they trade bad for worse," the release states. "A violent storm casts them onto mysterious island named Ishan. There, they discover local tribes that live under the thumb of a dark queen."
Together, the clan and the Ishans must do battle against the forces of evil.
Hannon, who is an alumnus of "Lord of the Dance," said that he's been working hard over the last four years to have the show where it is now. It's his baby and he kept believing in it, he said. With all the dynamics of a classic Irish tale told in the theatrical language of fiddles, flutes and stepdancers, Hannon said in the release that he is trying to harness and shake up that specific kind of magic living inside Irish music.
It all works very well, Hannon said. Along with the musicians and dancers who tell the story, there is a voiceover that explains the story as it goes on.
"Combined it all makes perfect sense," he said.
For more information about Murphy's Celtic Legacy, visit www.murphyscelticlegacy.com. Yavapai College Performing Arts Center is located at 1100 E. Sheldon St.
More like this story
SUBMIT FEEDBACK
Click Below to:
This Week's Circulars
To view money-saving ads...