CHEW ON THIS: Outlaw Donuts

Originally Published: February 14, 2019 9:32 p.m.
Early morning in Prescott, the sun is shining yet not enough for the heat to break through the cold, you walk into Outlaw Donuts and see… bacon on a maple long john.
"That one is pretty creative and people are interested in it," said owner Isiaha Canady. "They may take it one time, they may come back for it every single day."
T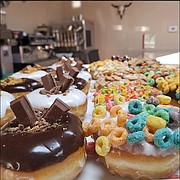 he Maple Bacon Long John is just one of the unique donuts found among the ordinary glazed and sprinkles at Outlaw Donuts. There's even some with cereal or a chunk of candy bar on them.
The ones with cereal have been done at other donut shops and at Outlaw, Canady said he wanted to have a color combination with the elementary schools and something people can have fun with.
"It's not every day that you get a cereal donut or Lucky Charms on your donut," he said. "(It's) something that they can have fun with that this town had never seen."
Outlaw Donuts, 414 W. Goodwin St. has been open since June 14, 2017. A certified chef whose mother is a certified public accountant, they came to Prescott originally wanting to open a bed and breakfast before realizing that with AirBnB, it would be like opening a taxi company in the age of Uber, Canady said.
So they decided to see what Prescott needed that could utilize both of their skillsets, he said. At the time, there was only one donut shop in town, Canady said. The name Outlaw Donuts came from his mother being a motorcyclist, his brother is in a motorcycle club and that eventually, he'll ride one, he said.
"We were going to go with this outlaw motorcycle thing because we thought that would be a good thing with the tourists coming through and stuff like that. Plus, there's a lot of people that like to ride through these country roads," Canady said. "But once we started looking around, we decided … this is a cowboy town."
Giving the shop a cowboy theme fit right into the vibe of Prescott with the rodeo and other restaurants that have done something similar, he said. On the walls are "wanted" posters of outlaws who have passed through Prescott.
Before he opened Outlaw Donuts, Canady said he never felt the urge to walk back into a donut shop or say how much he enjoyed his donut. But it happens all the time, he said.
"Once we opened here … the community really got behind us," Canady said. "We hear it every day, 'best donuts they have ever had,' 'best donuts in the whole entire state of Arizona,' 'you guys are doing a great job, keep up the great work,' stuff like that."
Those sentiments are reflected on yelp.com (4.5/5 with 62 reviews), tripadvisor.com (4.5/5 with 16 reviews) and on the store's Facebook page (4.9/5 with 70 votes)
"Delicious and beautifully crafted donuts," says Miguel S.
"Just plain awesome," says Chris M.
"Best donuts Prescott has to offer," according to Michael H.
"Fantastic donuts, great customer service, cute décor/location – what more could you want?" asks Carl C.
Looking ahead, Canady said he wants to bring back fresh baked cinnamon rolls to Outlaw Donuts' repertoire along with adding more breakfast-style offerings. They're also working on getting a truck up so they can go mobile, he said.
More like this story
SUBMIT FEEDBACK
Click Below to:
This Week's Circulars
To view money-saving ads...