VA Creative Arts Festival celebrates veterans' talents

By
Nanci Hutson
|
HutsonNanci
Originally Published: February 13, 2019 10:02 p.m.
Chino Valley U.S. Navy veteran Willem van der Heyden walked into the Prescott VA's theater on Wednesday and saw a photographer snapping pictures of one of three pieces he submitted into the 25th annual Prescott VA's Creative Arts Festival that runs through Friday.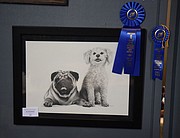 A National Veteran Administration Creative Arts Festival winner in 2017, the woodcraft artist asked whether his new piece won a ribbon — this was his first time submitting mechanical sculpture. He wasn't quite sure if the unusual design with clocks made out of bicycle spokes and old engine parts would appeal to the judges.
To his surprise, the judges liked the piece a lot — only first-place winning art is photographed.
"I'm blown away," van der Heyden said.
And it was not his only first-place blue ribbon.
van der Heyden won first-place in the woodcrafting category for an intricate landscape scene of Jerome at sunset made out of tiny, varying shades of wood, with a copper blade placed behind a church steeple to signify the sun. Copper seemed a fitting choice for a town with a copper mining history, he explained.
He is far from alone in producing first-, second- and third-place ribbon winning arts and crafts for the festival, which started as a means to give veterans a way to express themselves, particularly those struggling with post-traumatic stress disorders.
Sixty-three male and female veterans submitted 128 separate pieces of art this year.
The winner of the first-place Best in Show is Ron Errera for his monochromatic drawing of two dogs — a pug and a poodle — titled "Da Pugoodles."
The festival is part of the VA's National Salute to Veterans. All of the first-place winners will have their work submitted to the national festival, which this year will be held in Kalamazoo, Michigan, in October.
American Legion Auxiliary Unit 108 coordinates and judges the two-day exhibit that started at noon Feb. 13 with a cake and punch reception. The public is welcome to attend the show located at the theater building between 9 a.m. and 4 p.m. on Thursday and from 9 a.m. till the final awards ceremony at noon on Friday. The awards ceremony will be when the People's Choice Award winner will be announced.
VA medical staff and employees were the first to admire the array of entries that incorporate every art genre from needlepoint paintings and jewelry to landscape paintings, photographs, pen-and-ink drawings, woodcrafts, quilts, crochet and knit shawls and blankets, leather works, assorted sculptures, glass mosaics, collage and mixed media. For the first time this year, there are also two 3-D pieces complete with viewing glasses.
The bulk of this art is from veterans who tapped into their talent as a therapeutic hobby. Some of the pieces are exotic, even frightening, in their realism – one three-dimensional skull in white and red against a black backdrop by James Schwarz makes quite a statement.
Some of the art is of a more traditional ilk, such as landscape paintings and animal portraits. Some are sentimental, such as a glass mosaic piece mirror titled "Like Mother Like Daughter" by Rocksanne Topping. Perfect for Valentine's Day is a photograph titled "The Lover's Sunset" by Frank Russell.
An Americana, red, white and blue wall-size quilt titled "Proud Patriot" by Lori Robinson won a first-place ribbon and a smaller patriotic wall hanging titled "Land of the Free Because of the Brave" by Carolyn Wood won a second-place award. Both earned plenty of "oohs and aahs" from exhibit viewers.
"We love it every year. It's very enjoyable," declared Diane McKaben, an auxiliary member.
VA volunteer George Clark, and his pet therapy Rhodesian Ridgeback, Jack, were awed by the talent exhibited. After a first look at the variety of items on display — one of them a mesmerizing, first-place ribbon winning fairytale-style needlepoint with jeweled pieces crafted by one of last year's national winners, Betty Adams — Clark prepared for a second time around so he could cast a vote for his People's Choice winner.
He admitted to pick just one would not be easy.
"It's all just amazing," concluded VA Public Affairs Officer Mary Dillinger.
Photo Gallery
Veteran's Creative Arts Festival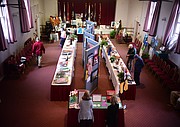 More like this story
SUBMIT FEEDBACK
Click Below to: