Horses with H.E.A.R.T. goes bowling
People raising pledges can designate where they want money to go, group's executive director says

Originally Published: February 12, 2019 9:09 p.m.
While the morning session is all filled up for Horses with H.E.A.R.T.'s 16th annual Bowl-A-Thon on Saturday, Feb. 16, a few spots still remain for the afternoon session.
The Bowl-A-Thon is a little bit different every year, said Horses with H.E.A.R.T. Executive Director Pam Berry. This year, there are different raffle prizes, and the organization is sharing the alley with a Yavapai Big Brothers Big Sisters event, so there will be some interaction there, Berry said.
The big-ticket item in the raffle is a laptop, and second prize is a handcrafted barn with horses and fencing, she said. That is alongside the 50/50 raffle and the usual dollar raffle items where 20 items will be on a table and people can drop their ticket in the bag for whatever item they hope to win, Berry said.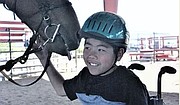 "It's just a lot of fun and crazy activity," she said.
While just a few spots remain in the field, the event is still fun to attend if someone doesn't bowl, Berry said. The organization's riding participants will be taking part, supporting Horses With H.E.A.R.T., she said.
The hope is to raise at least $5,000, Berry said. The nice thing about the Bowl-A-Thon is that people who are raising pledges can designate where their money goes, she said.
"The options are a scholarship fund, so that they're actually helping our riders that can't afford to do it on their own, they can designate it to horse care … or if they want, they can just designate it to our general operations," Berry said. "So it gives the people that are bowling the opportunity to say 'hey, here's where my interest is.'"
The Bowl-A-Thon is a change from the normal day-to-day businesses of Horses with H.E.A.R.T., which provides a safe, therapeutic equine experience for people with disabilities in order to foster their confidence and dignity while challenging each rider to develop independent skills at their own level of ability. Usually, the clients come and work with the volunteers to meet the goals that have been established for that particular rider, Berry said.
The Bowl-A-Thon, though, it is a social event showcasing how those involved are one big family who love and support each other whether they are at the Horses with H.E.A.R.T. location or out in the community, she said.
Antelope Lanes is at 6301 E. Second St. Walk-ins for the Bowl-A-Thon are welcome if space permits. Check-in for the afternoon session is at noon and the cost is $30 per person and covers two games, shoes and an event T-shirt.
The whole event runs from 9 a.m. to 3 p.m.
For more information, call Horses with H.E.A.R.T. at 928-533-9178 or email at info@horseswithheartaz.org.
More like this story
SUBMIT FEEDBACK
Click Below to:
This Week's Circulars
To view money-saving ads...