20,000 Children in Need: State nonprofit offers insights to foster care at Prescott event
State nonprofit offers insights to foster care at Prescott event

By
Nanci Hutson
|
HutsonNanci
Originally Published: February 12, 2019 11 p.m.
In a perfect world, every child would be loved, cherished and nurtured by the family they enter at birth.
But we do not live in a perfect world.
Too many children – more than 20,000 in this state – are unable to live in their families due to no fault of their own. Often these children are neglected, abused, or otherwise traumatized, by those who pledged to love them for life. Infants to teens can become unsuspecting victims to family chaos: addiction, mental illness, violence, and poverty, impede parents' ability to be a nurturing influence.
Like in all states, Arizona's Department of Child Safety relies on the benevolence of single men and women, or married couples, across the state willing to become foster, or adoptive, parents. The state contracts with some 20 agencies that provide the training and oversight for those selected to provide this care that can be for a weekend, or last for years.
On Monday night, Arizona 1:27 offered an initial foster care orientation program at The Heights Church in Prescott attended by about 10 individuals seeking to learn more about how what such care entails. The Christian-based movement of churches across the state offered a panel of experts in the field, non-profit and state providers, as well as two foster and adoptive mothers to share information and answer questions. Several agencies that provide training and oversight also had booths for those interested in obtaining more information about the opportunities available.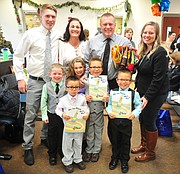 AZ 1:27 Northern Arizona Region Director Kolbi Millsap Kolbi Millsap said the mission of her organization is to answer the spiritual calling to assist the community's most vulnerable; to be ambassadors of hope." Millsap is the executive director of The Heights Hands & Feet Ministry.
"We don't all have to do the same thing, but we can all do something," Millsap said as she moderated the program that offered a variety of ways people can support children in the foster care system.
Foster care or adoptive parenting is the highest commitment people can pursue when it comes to assisting children who end up in state custody, Millsap said. For those who opt that route, there are licensing requirements, home inspections, background checks and trainings required whether someone opts to take a child for a weekend, for a few weeks or even years. As reunification is the primary goal of foster care, foster parents must be willing to have at least minimal contact and visits with the child's parents or primary guardians.
Yet Millsap said there are other, less intensive, ways that people can be of assistant to children in crisis, including respite care, one-to-one mentoring programs, support groups or serving as a volunteer court advocate for children in the foster care system. There are churches and other civic groups that opt to adopt a foster care agency, or families, providing clothing, meal and holiday assistance. Some folks prefer to send a financial donations to a local agency that provides such care, she said.
All involvement is helpful and appreciated, Millsap assured.
One of AZ 1:27 goals is to try and garner at least 100 more foster families in Yavapai County this year. The hope is to broaden the reach, particularly for those children who are living in group home settings.
"Kids thrive best when they live in families," Millsap said.
The decision to become a foster family is not one to take lightly, Millsap and agency leaders said.
In the state-required videos, the moderator is clear that children removed from their homes have experienced trauma that will impact behavior. Foster parents need to be aware that these children may exhibit a wide range of moods and behaviors, and need to be flexible, patient, and have a good sense of humor. Like any parent, foster families need to expect the unexpected, and love these children unconditionally, for as long as they may be in their home, Millsap and other agency leaders said.
"Our job is to fully love these children for however long we have them," Millsap said.
Foster care is less about getting a child for your family, and more about giving your family to a child," the video emphasizes.
Foster/adoptive parent and panelist Dana Eisenhour, who has one nine-year-old son, said her family became a new home for two little girls. From the start, her mantra was simply to "love on them."
Eisenhour echoed a sentiment shared in one of the videos: "Foster care is less about getting a child for your family, and more about giving your family to a child."
Like another foster/adoptive parent on the panel, Eisenhour said there have been some difficult days, and plenty of obstacles to overcome, but she said she would not trade the blessings she and her family have received from their presence.
"So worth it," she said.
More like this story
SUBMIT FEEDBACK
Click Below to:
This Week's Circulars
To view money-saving ads...