Yabba- Dabba-Done! - Fred, Wilma and the gang bid farewell as Bedrock City closes after 47 years

Originally Published: February 10, 2019 12:46 a.m.
Bedrock City, which opened in Valle, Arizona — between Williams and Tusayan — closed Monday, Jan. 28, 2019, after 47 years.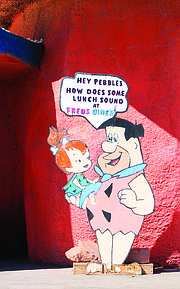 It was sold to new owners, California business partners Troy Morris and Ron Brown. They plan to build a new tourist attraction, Raptor Ranch, on the site, the Williams News reported. Morris plans to keep the popular brontosaurus slide as part of a children's play area in tribute to the park.
The licensed Hanna Barbara characters and themes will be demolished, because they were not part of the sale.
The Coconino County Supervisors recently voted 4-1 to allow the raptor-themed attraction featuring bird shows and exhibits, as well as recuperation for injured birds and educational opportunities, the Arizona Sun reported.
"The Flintstones," of which Fred Flintstone was the main character, was a Hanna-Barbera cartoon production that became the first animated series to run in prime time — on ABC from 1960 to 1966. It continued in reruns for decades with Fred bellowing his signature line of "Yabba-Dabba-Doo!"
The Flintstones remained relatively popular even after the show went off the air, so much so that in 1966,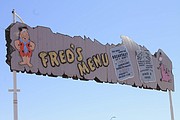 Linda and Joe Speckels, along with four others, got the licensing from Hanna-Barbera to make Bedrock City, a Flintstone-themed amusement park and campground, in Custer, South Dakota. The attraction was popular enough to spawn Bedrock City in Valle, Arizona, according to internet reports.
The South Dakota Bedrock City closed in 2015. The Arizona location was for sale, beginning in 2015, but sat wanting for buyers, according to Courier archives.
The attraction was open 364 days a year (closed on Christmas Day), allowing people to see the open-air home of Fred, his wife, Wilma, friends Barney Rubble, his wife Betty, and the rest of Bedrock.
The property was a campground combined with the amusement park, and included a gift shop, restaurant, convenience store, laundry and restaurant, all following the prehistoric theme.
Bedrock City was for sale for $2 million and the rights to the Hanna-Barbera characters were not part of the deal.
The Speckels, as well as Morris and Brown, were not available for comments.
The Williams News is a sister publication to The Daily Courier.
More like this story
SUBMIT FEEDBACK
Click Below to: