Prescott girls edge Poston Butte 1-0 to reach state quarters
Prep Girls Soccer
By
Doug Cook
|
dougout_dc
Originally Published: February 10, 2019 12:15 a.m.
PRESCOTT — Deadlocked in a scoreless tie with upstart Poston Butte at halftime on Saturday, Feb. 9, Prescott's girls soccer team stayed composed.
Even though the sixth-seeded Badgers were favored to beat the No. 11 Broncos in the first round of the 4A state tournament at Bill Shepard Field, Prescott needed every ounce of patience it could muster to fend off Poston Butte and advance.
With 17 minutes and 19 seconds remaining in regulation, junior forward Emma Alvarez's short-range goal in front of the Broncos' net handed the hosts the lead and the Badgers hung on for a 1-0 victory to qualify for the state quarterfinals.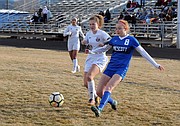 "We definitely came out slow, but I didn't expect anything but a win from this game – knowing how we play and how we can get the ball and control it on this [sloped grass] field that we have," Alvarez said.
Poston Butte defenders were caught off-guard by Alvarez, who turned to receive the ball in the middle of the field on the scoring play. They thought she had gone offsides and were waiting for the referee's whistle. Instead, Alvarez played on and lined an easy shot into the Broncos' goal.
"It was definitely stressful," Alvarez said. "When [Prescott forward] Erika [Smith] had passed the ball, I wasn't sure. They [Broncos players] kept on calling offsides, but I thought, 'Why not take it, just in case,' and it ended up going in my favor."
Added Prescott coach Paul Campuzano, "The reason why she wasn't offsides is because she pivoted her body and turned and opened up, and then it hit her in the foot and she was fine. And, plus, the backside defender was keeping her on."
The Badgers' attack outshot Poston Butte, 22-4, including 12-0 in the first half. The Broncos had their chances to score, but they couldn't punch in their lone golden opportunity in front of the Prescott net late in the game.
"It was definitely hard back there — a lot of pushing, a lot of fouls, a lot of handballs," Prescott freshman defender Melia Hoyt said of holding off Poston Butte. "But we definitely did push through, and we made sure that we were in formation, and that's what made us pull out a win."
On Dec. 6 in San Tan Valley, Prescott crushed Poston Butte, 8-0. But Saturday's match was an entirely different story. The Broncos, whose four-game winning streak ended Saturday, entered the match having won 10 of their past 12, since Dec. 12.
However, Prescott's no slouch. After Saturday's win, the Badgers have now won four straight and six of their last eight matches.
On Feb. 7, Poston Butte knocked out Lee Williams, 6-1, in the state play-in round to advance to Saturday. Prescott shut out Lee Williams, a fellow Grand Canyon region team, 7-0, in its season opener Nov. 29 at Shepard Field.
Despite Saturday's setback, the Broncos were proud to have made the program's first state tournament appearance. Several dozen Poston Butte fans traveled from San Tan Valley, near Phoenix, to Prescott for the match.
"I actually told [our players] that I thought we could upset them [Badgers]," Poston Butte associate coach Brendan McMaster said. "We had some chances, but they are stout on the back end."
UP NEXT
Prescott visits two-time defending 4A state champion Salpointe Catholic (12-1-0 record), the No. 3 seed in this year's tournament, in the state quarterfinals at 6 p.m. Wednesday, Feb. 13, in Tucson.
Last February, Salpointe Catholic eliminated Prescott (11-2-0) in the state semifinals at Williams Field High School in Gilbert.
"Last year didn't go so well, but we're definitely a better team this year and we have improved on our passing – and it's not just through-balls to one player the whole time," Alvarez said. "With our passing and how good we play on [artificial field] turf, we'll definitely be able to pull out a win."
Doug Cook is a reporter for The Daily Courier. Follow him on Twitter at @dougout_dc. Email him at dcook@prescottaz.com or call 928-445-3333, ext. 2039.
More like this story
SUBMIT FEEDBACK
Click Below to: